The views expressed in our content reflect individual perspectives and do not represent the official views of the Baha'i Faith.
We live in desperate times when people need hope, love, and, most importantly, unity. So what are we to do in moments like this? How can we be the lamp to those walking in darkness? I believe the answer to this comes in the sharing of the Baha'i Faith.
My wife Kaseena and I are new Bahai's as of June 20, 2020. She's 26, and I'm 30, and our story might give hope to millennials — and anyone else — looking for an answer to the broken world in which we live.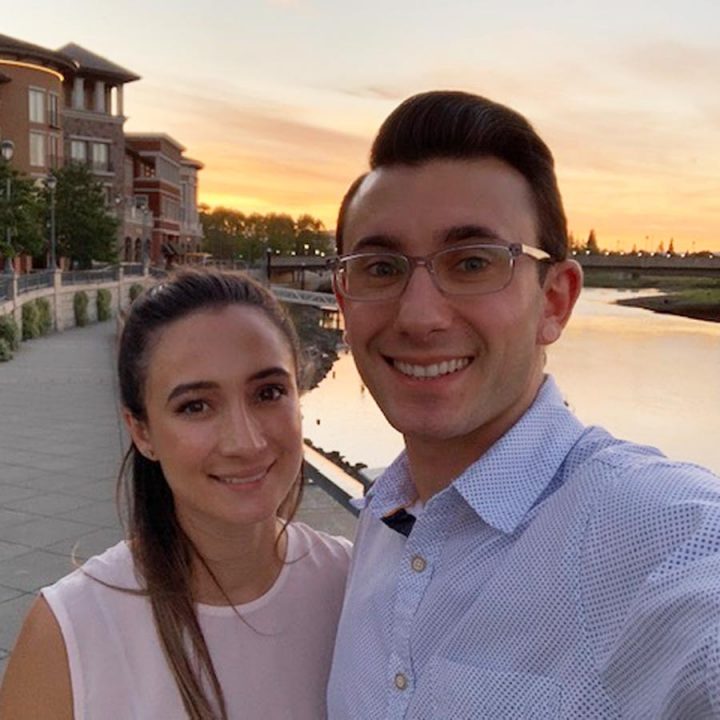 Kaseena and I were born and raised in the San Francisco Bay Area, and have been married a little over three years now. When we first met in 2014, you could say we felt lost and confused. We were trying to figure out what our purpose in life was. Around this time, Kaseena learned about the Baha'i Faith and shared it with me. Kaseena grew up in a Catholic family but did not practice Catholicism as an adult, and I had no religious background. I was very intrigued about the Baha'i Faith's fundamental ideas but never fully dove in. Because I had never heard of it before I thought it wasn't real or legitimate. I didn't study it too much at the time, but we soon found ourselves searching once again for meaning, purpose, and spirituality.
In early 2017, some dear friends of ours invited us to go to church with them, and because we were searching for our purpose, we continued our spiritual journey. We fell in love with Jesus and got baptized as Christians in 2018. Even though we were now devout Christians, the Baha'i Faith was always in the back of Kaseena's mind — mine not so much. She had spent more time learning about the Baha'i Faith and was so drawn to the teachings of Baha'u'llah, the prophet and founder, that she couldn't ignore what she had learned.
This spring, Kaseena reached out to a good friend of hers who is a Baha'i because she wanted to learn more about the Baha'i Faith. I came home from work one day, and she told me she had chatted with her friend, Gouya Zamani. I felt a bit reluctant about this — probably because my roots were so deep in the teachings of Jesus and I didn't want to learn anything else. However, something I admire about my wife is she has the most amazing heart and a strong desire to constantly grow in all areas of life — which always inspires me to want to learn more. I realized I liked the "idea" of the Baha'i Faith, but I had a Rolodex of questions: How can there be one God, yet all his messengers have shared different messages and maybe even seemed counterintuitive? How is it different than Christianity? Is Baha'u'llah real, and how could I really find out?
"The more we read, the more everything became so much clearer in our purpose in life"
What did I do? I investigated.
As Abdu'l-Baha, the son of Baha'u'llah, the prophet and founder of the Baha'i Faith said in a speech in Paris in 1911:
"The principles of the Teachings of Baha'u'llah should be carefully studied, one by one, until they are realized and understood by mind and heart — so will you become strong followers of the light, truly spiritual, heavenly soldiers of God, acquiring and spreading the true civilization."
The more we studied and investigated, the more we realized how amazingly logical this incredible religion is. More importantly, we found a deeper spiritual connection by reading the holy writings of the Baha'i Faith. The more we read, the more everything became so much clearer in our purpose in life. The more we investigated, the closer to God we began to feel. Coming from Christian backgrounds, we feel even closer to Jesus than we did before.
The foundations of the Baha'i Faith are what drew us closer and closer. Baha'u'llah wrote, "It behooveth man to adhere tenaciously unto that which will promote fellowship, kindliness and unity."
The main teachings of unity — the oneness of humanity, the equality of all races, and the equality of men and women — are the cures to all the ailments of this world. More specifically, they are the cure to the injustice and turmoil we currently face in the United States. As Abdu'l-Baha explained in another speech, "If men could only learn the lesson of mutual tolerance, understanding, and brotherly love, the unity of this world would soon be an established fact."
With that in mind, we wholeheartedly believe it is our responsibility to be the catalyst for change for all of humanity.

You May Also Like