Crisis and victory go hand in hand, says a member of the newly established National Spiritual Assembly of the Baha'is of Timor-Leste, referring to the historic elections that took place last Friday amid tireless efforts to respond to the devastating floods in the country.
Given prevailing conditions, delegates voted remotely. "We feel so privileged to have a National Spiritual Assembly in Timor-Leste," says Graciana da Costa Herculano Boavida, a member of the Assembly.
In a message to the Baha'is of Timor-Leste, the Universal House of Justice wrote: "The establishment of the National Assembly will enable your community to contribute with increasing effectiveness to the spiritual and material well-being of your society …"
The Baha'is of the country trace their roots to 1954, when three Baha'is from Australia and Portugal arrived in Dili. A short few years later, in 1958, the first Baha'i Local Spiritual Assembly was established in Dili. Although some Baha'is from other countries continued to arrive through to the mid-70s, the Baha'i community only re-emerged in 1999 with community-building efforts gaining momentum in 2011.
The Timorese Baha'is were anticipating the National Assembly's election last month, when the country was struck by Cyclone Seroja. Severe floods began on 4 April, bringing tragic loss of life across the country from landslides and mosquito-borne diseases.
"It is out of the heart of a disaster that this institution emerges," says Vahideh Hosseini, a member of the National Spiritual Assembly. "These have been trying weeks, but everyone is striving to do what they can to assist, especially the youth."
A key aspect of the response was the creation of a five-member taskforce by the Baha'i Local Spiritual Assembly of Dili to coordinate efforts. The taskforce has facilitated the distribution of some 1,400 packages of food, mosquito nets, and other essentials that have assisted more than 7,000 people across 13 villages and neighborhoods. The taskforce also arranged for a boat to be built so that help could reach people where roads were cut off.
"Baha'i institutions and local officials have worked shoulder-to-shoulder with people on the ground," says Madalena Maria Barros, another member of the National Assembly. "I went with the xefe (chief) of my village to visit the home of an elderly woman who had lost everything in the flood and was ill with fever. The xefe, who was deeply moved by the woman's condition, wrapped her in a blanket and cooked for her with supplies we had brought."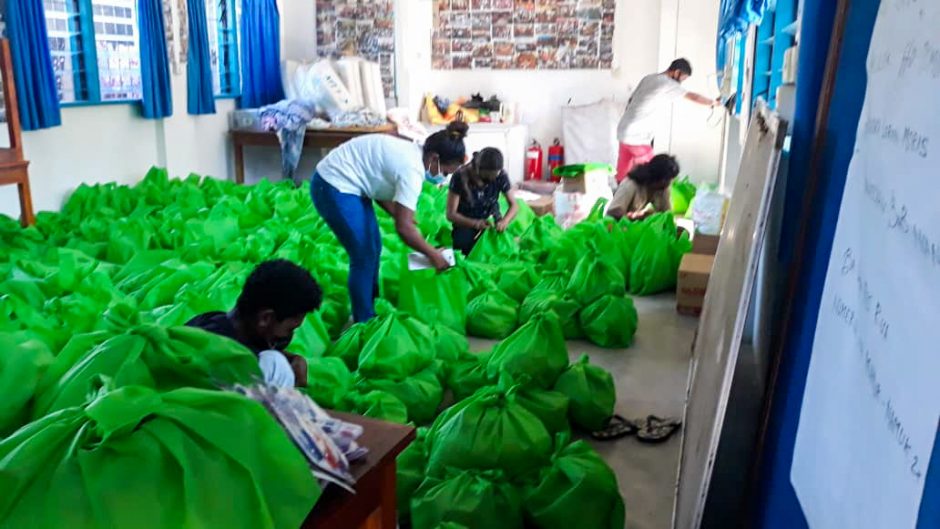 Alberto dos Reis Mendonca, a Baha'i in the hard-hit Masin-Lidun neighborhood of Dili, says, "Baha'i activities in our neighborhood began just six months, and in that short time we've learned much about how to serve together as one.
"Every day we act and reflect, and then plan for the next day. A few days after the flood, more support was reaching the area and people had rice, oil, and other supplies. So we said now we need protein and vegetables to be healthy, and we reached out to organizations who could provide mung beans and other vegetables for us to distribute."
Commenting on the devotional spirit that has sustained people throughout these efforts, Marcos da Costa Dias, a member of the National Assembly who lives in Masin-Lidun, states: "We pray early each morning and feel united, at peace, and enter a prayerful state which lasts throughout the daily work of relief and recovery."
Reflecting on the past month, Mrs. Herculano Boavida says, "In our response to this crisis we look to the example of Abdu'l-Baha – that everywhere he went, he always found ways to help people in difficulty. The same spirit of service is felt now by the National Spiritual Assembly."
You May Also Like