An audience of some 50,000 across Chile tuned in last week to watch a program that offered perspectives of the country's Baha'i community on how people can remain hopeful and respond constructively to the health crisis. 
The 40-minute program was broadcast online by EMOL TV – one of Chile's leading news outlets – in collaboration with the Chilean Association for Interreligious Dialogue (ADIR). The program is part of a series that began in April 2020 as the pandemic hit, and provides the country's faith communities an opportunity to offer messages of hope.
"Through this and an earlier broadcast last August," says Luis Sandoval of Chile's Baha'i Office of External Affairs, "the Baha'i community has tried to impart the same spirit that people feel when they pray together, whether in their homes, online with friends and neighbors, or with their compatriots under the roof of the Baha'i House of Worship in Santiago."
Omar Cortes of ADIR says, "In their contributions, the Baha'i community has always left a very positive impression on the editors and audience of EMOL TV. This last broadcast by the Baha'i community was appreciated for its attentive reflections, touching on the health and social crisis with wisdom."
The most recent program, which has stimulated dialogue on spiritual themes among the many viewers, featured reflections from people across the country who are engaged in Baha'i community-building endeavors.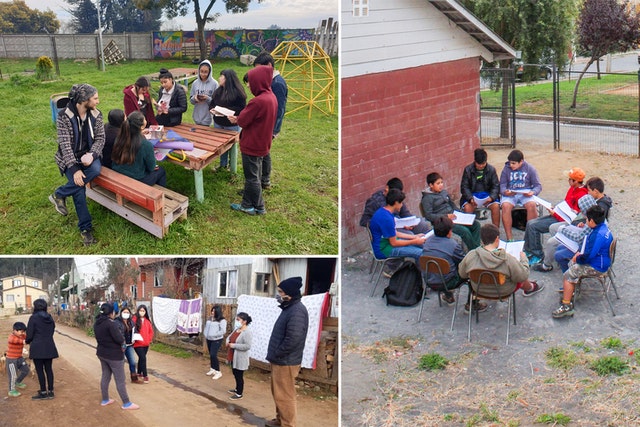 Appearing in the broadcast, Veronica Oré, director of the Baha'i House of Worship in Santiago, commented on the budding cooperation and mutual support among citizens, saying, "Rather than looking with sadness and hopelessness at what is happening, we can see a great opportunity emerging to better understand what it means for all segments of humanity to act as one."
"The world is but one country," she adds, referring to a well-known teaching of Baha'u'llah which continues, stating: "and mankind its citizens."
Another speaker, a young person from Santiago, called on her fellow youth to arise and support one another, whether friends or strangers, in a unified response to the needs of society. Others shared insights from conversations in spaces created by the Office of External Affairs in which participants explore issues such as the extremes of wealth and poverty, equality between men and women, the protection of nature, and the economy.
Speaking about the series of broadcasts, Mr. Cortes of ADIR says, "We are grateful to EMOL TV because, as a secular media organization, it dared to venture into this type of broadcast."
Mr. Sandoval comments further on the important role of the media in fostering a public dialogue on religion's capacity to inspire hope. "Transmitting a potent message related to the reality of the country and the principles that show new ways of living, of organizing ourselves, and of relating to each other can contribute to the transformation of society for the welfare of all."
You May Also Like