The views expressed in our content reflect individual perspectives and do not represent the official views of the Baha'i Faith.
From sunset on April 19 to sunset on May 1, Baha'is around the world celebrate the Festival of Ridvan. During these twelve days, Baha'is commemorate the events that took place in 1863 at the Garden of Ridvan on the banks of the Tigris River in Baghdad. These 12 days mark the period of Baha'u'llah's announcement as the Promised One, the Prophet-Founder of a new faith — the Baha'i Faith.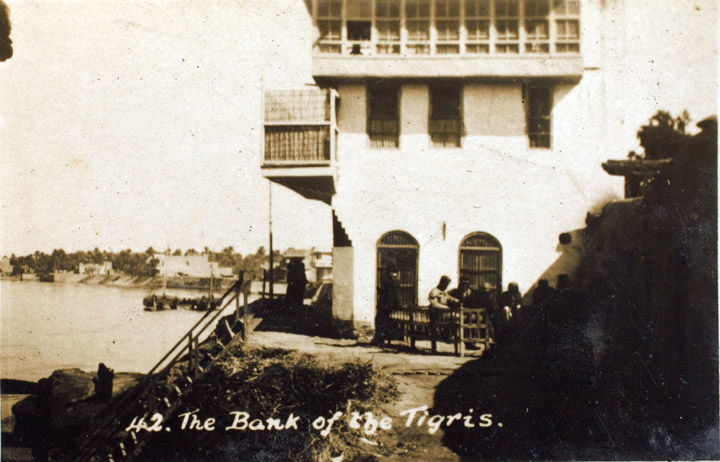 ---
Baha'u'llah ordained this period of Ridvan as the "Most Great Festival." In the Garden of Ridvan — which translates to the word "paradise" — Baha'u'llah declared his mission to his family and followers. During this time, He revealed his transformative teachings, a renewal of religion that would bring harmony, joy, and growth to humanity — a divine springtime. As Abdu'l-Baha, his eldest son and designator successor said in a speech in Washington, D.C. in 1912:
For, verily, this is the spring season of God. In the Holy Books a promise is given that the springtime of God shall make itself manifest; Jerusalem, the Holy City, shall descend from heaven; Zion shall leap forth and dance; and the Holy Land shall be submerged in the ocean of divine effulgence … It is a day of joy, a time of happiness, a period of spiritual growth.
This year, celebrating Ridvan looks very different from what I experienced as a child or the way I've observed it in recent years with my family, friends, and community. Because of the current coronavirus pandemic, we've all had to find new and creative ways to celebrate. We've swiftly adapted our celebrations to meet current health advisories of social distancing and quarantining while creating new and wonderful traditions along the way.
I grew up in a primarily Christian neighborhood where friends had Christmas trees, Easter egg hunts, and exchanged gifts. Amongst all this, my mother, in particular, wanted to develop family traditions for Baha'i Holy Days that would instill our faith in us, and give us a stronger identity and confidence as Baha'is.
I recall making decorations with her that would beautify our home during the 12-day Festival of Ridvan. We participated in local celebrations and visited family and friends bearing gifts. During specific days of the Festival, we would miss a day of school or work and do service in our community. My mom would have pre-arranged visits and tasks such as cleaning up at the local park, helping elderly neighbors or volunteering at the local thrift store — unboxing donations, pricing items, or stacking shelves. Our service would often be followed by a special meal at McDonald's or a wrap from the local kebab shop.
My mother didn't do these things because she was following prescribed Baha'i rituals. In fact, as Shoghi Effendi, who succeeded Abdu'l-Baha as the Guardian of the Baha'i Faith, explained in a letter written in 1949, Baha'u'llah has been explicit about minimizing ritual in the Baha'i Faith and community:
Baha'u'llah has reduced all ritual and form to an absolute minimum in His Faith. The few forms that are there-like those associated with the two longer obligatory daily prayers, are only symbols of the inner attitude. There is a wisdom in them, and a great blessing but we cannot force ourselves to understand or feel these things, that is why He gave us also the very short and simple prayer, for those who did not feel the desire to perform the acts associated with the other two.
But there's a difference between the ordinance set by Baha'u'llah surrounding rituals and my mother's intentions behind establishing family traditions surrounding Baha'i Holy Days. No person or Baha'i teaching explicitly told my mom to do things a certain way. There were no rule books that she followed or specific requirements that she had to meet. By creating fun, beautiful, and profound ways for us to learn about the history of our faith and the sanctity of these special occasions as a family unit, she instilled beautiful memories that I cherish to this day. These traditions evolved and changed as I grew up, and when I got married, I began to adapt these experiences into the new traditions that I am creating and sharing with my husband.
This year, Baha'is are celebrating Ridvan in profound and creative ways. Because of platforms like Facebook, Instagram, and WhatsApp, I've been exposed to even more diverse traditions and ideas for how the Festival of Ridvan — or any Baha'i Holy Day for that matter — can be celebrated. I've even been able to participate in some celebrations which, without a pandemic, I would have never experienced.
I'm excited to share a list of creative ideas and ways that I've come across from Baha'is around the world, who are celebrating the Most Great Festival in their own, unique — and, of course, safe — way!
Planting Trees
A community created a shared calendar where they would each, at a scheduled time, plant trees that they had been collectively growing at a local park.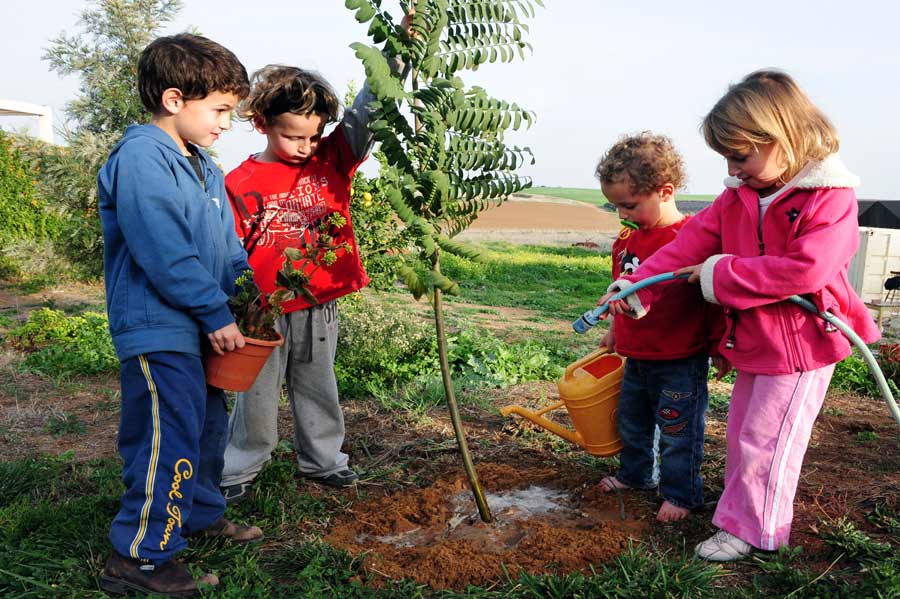 Delivering Cookies
A family had cookies made by a local bakery and delivered them — at a safe distance — to the children in their kindergarten, along with a little card. They had wonderful conversations about Ridvan and also caught up as it had been a while since the children had seen each other.
Delivering Flowers
A family cut flowers from their garden to share with local neighbors.
Listening to Baha'i Inspired Music
There is SO MUCH music created by Baha'i's from around the world that reflect the Baha'i writings and teachings in the most beautiful way. Friends have been making a habit of listening to uplifting, soul-stirring music to bring them to a sense of reverence and celebration in the safety of their own homes.
Hiring an Artist
Let's be honest. Artists have it tough these days. With audiences no longer able to physically come together, it's become tough for artists to work. However, some communities have hired Baha'i inspired musicians for private online shows. What a great way to bring art to your community and support creators!
Making Paper Flowers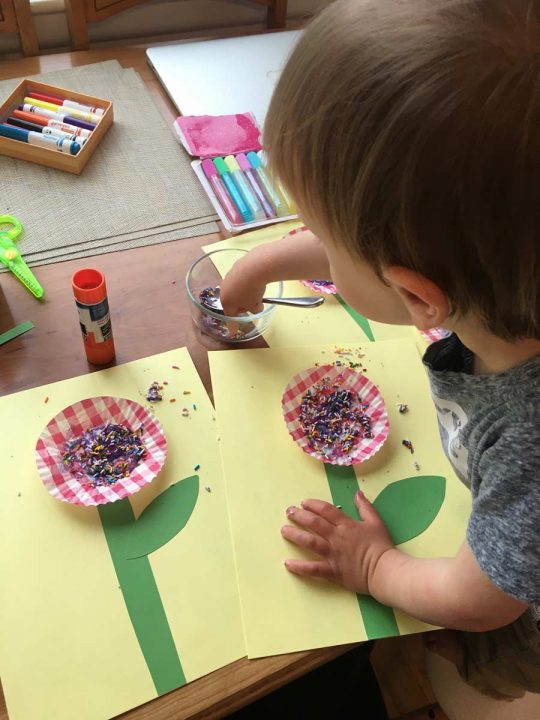 A mother and toddler made paper flowers with Baha'i quotes and mailed them to family and friends.
Painting Posters
Some children got crafty and made beautiful posters with the words "Love & Joy" and taped them to the doors of their neighbors. They wanted to do something that brought "God's love" to their homes.
Storytelling
One community came together on video chat and shared stories of not only Baha'u'llah in the Garden of Ridvan but also stories of early Baha'i's — trailblazers with inspiring stories of dedication and sacrifice.
Building a Tent
A children's class teacher asked all the children to build a tent in their own homes and fill it with flowers and pillows, just like the days that Baha'u'llah and his family spent in the garden of Ridvan. Some even had rosewater scent to sweeten the space. The children's class teacher video-called all the children and read the story of Baha'u'llah in the garden, while they all sat in their tents at home.
Creating Artistic Resources
To keep children — and adults — creatively entertained, people have been making activities such as illustrations, books, and craft video tutorials, specifically for the Festival of Ridvan.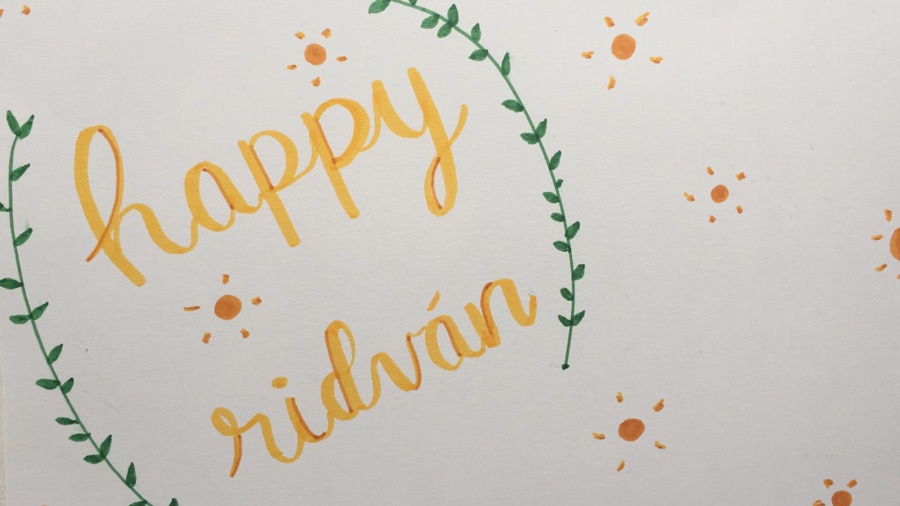 Connecting on Social Media
Baha'i communities around the world have taken to creating social media accounts dedicated to the 12 days of Ridvan. To commemorate the Festival and bring people together, they're sharing stories, beautiful graphics, songs, photos, poetry, and other types of artistic expression.
Making Miniature Models
One family created a miniature model of the garden of Ridvan and retold the story of Baha'u'llah and his time there.
Creating Collective Art Pieces
Groups of teenagers, inspired by the power of Baha'u'llah's teachings for this day, have come together virtually to create collective art pieces, such as songs filmed at home, and brought together in a collective music video. Another group had cut up sections of a large image distributed to their homes. Each youth beautified their own section, which was then collected by a facilitator and placed on a large window for all to see as they walked by.
Hosting Online Celebrations
Communities around the world have come together to celebrate the Festival of Ridvan. One community, in particular, has sourced videos from Baha'i's from around the world — sharing stories, songs, art activities, comedy, spoken word, and much more.
Praying Together
The power of prayer is humbling and transformative, and now virtual devotional spaces all over the world are enabling us to come together to commemorate the Festival of Ridvan. These spaces are allowing individuals to pray together for healing and suffering, for those on the front lines, and for those we've lost.
We live in incredibly uncertain and scary times. But this has been the most unique Ridvan I have ever experienced, and it's impacted my traditions for the better. It reminds me of the power of Baha'u'llah's transformative message, its ability to unite humankind, and give way to artistic expression that serves and brings light to humanity. It brightened my Ridvan to see the diverse ways that friends celebrate and the traditions that they are bringing to life, to commemorate these special days.
You May Also Like