The views expressed in our content reflect individual perspectives and do not represent the official views of the Baha'i Faith.
Over the years, multiple United States cities and towns have seen a series of protest marches and demonstrations over the deaths of many African Americans at the hands of the police.
Many of those marches have been peaceful and productive, allowing a wide diversity of people the freedom to express their views and register their public opposition to racism and injustice. Widespread media coverage of the peaceful marches has shown America that racism isn't just a "black issue"—because the protests have drawn such a diverse array of marchers.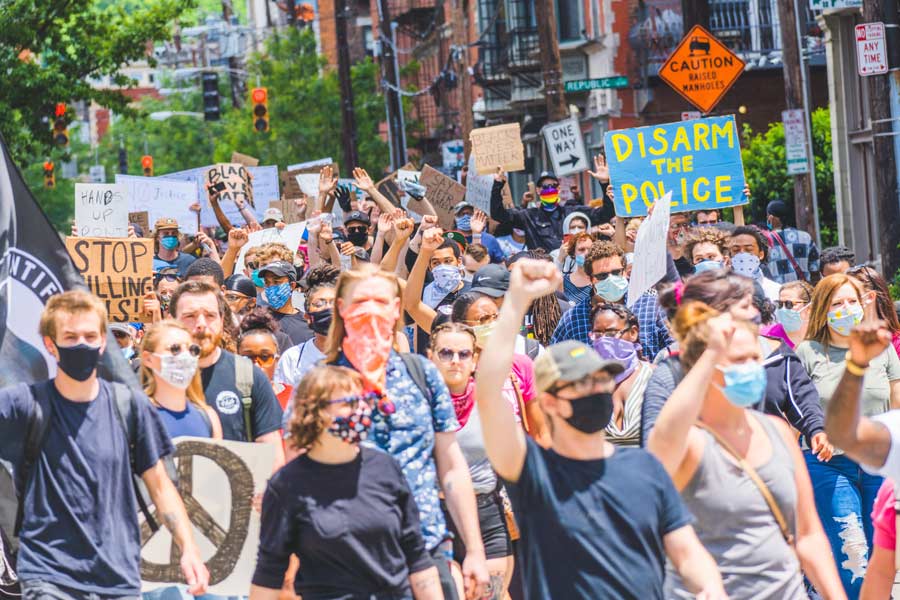 But some demonstrations haven't remained peaceful, with a few marchers turning to violence, destroying property and even injuring other marchers or police. On the other hand, some peaceful marches have engendered a harsh, hyper-militarized or violent police response.
So how do you feel about demonstrating for racial justice? Have you ever marched in a peaceful protest? Did you feel like it accomplished its purpose?
From a spiritual perspective, several Baha'i principles apply to those important questions:
God loves justice, and asks us all to work for its emergence in the world: "The best-beloved of all things in My sight is justice, turn not away therefrom…"

–

Baha'u'llah

,

The Hidden Words
The oneness of humanity is the spirit of this age: "Quench ye the fires of war, lift high the banners of peace, work for the oneness of humankind and remember that religion is the channel of love unto all peoples."

–

Abdu'l-Baha

,

Selections from the Writings of Abdu'l-Baha
The Baha'i teachings ask each person to "tear down the barriers" between the races: "Casting away once and for all the fallacious doctrine of racial superiority, with all its attendant evils, confusion, and miseries, and welcoming and encouraging the intermixture of races, and tearing down the barriers that now divide them, they should each endeavor, day and night, to fulfill their particular responsibilities in the common task which so urgently faces them."

–

Shoghi Effendi

,

The Advent of Divine Justice
Baha'is are nonviolent, and obey the civil laws of their country, so they don't participate in unlawful or violent demonstrations—but they can and do organize and actively join in peaceful marches against racism, prejudice and oppression. In fact, American Baha'is took part in demonstrations on college campuses to end racial prejudice as early as the 1940's—a development that the Guardian of the Baha'i Faith, Shoghi Effendi, heartily favored and approved. Baha'is actively took part in the civil rights and anti-apartheid struggles. Elected Baha'i institutions at the local, national and international levels have all strongly advocated for human rights and the elimination of racist ideologies and policies, long before those causes became popular mass movements. The Baha'i teachings, because they focus so intently on establishing the oneness of humanity and eradicating bias and bigotry, encourage every person to take action on this vitally important issue.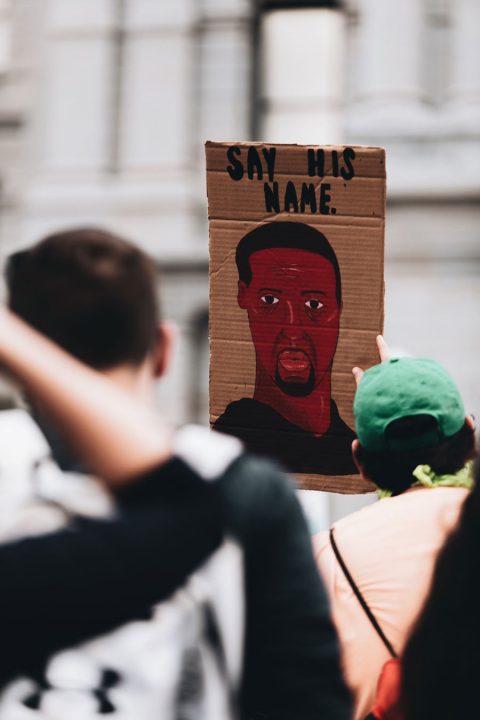 However—Baha'is don't just march and then go home. The Baha'is attempt to do much more than that, with ongoing efforts to discover and destroy the source of prejudice in our own hearts and minds; with the education of children and youth about the essential unity of the human race; and by building healthy, functionally-integrated communities that include and incorporate all races and ethnicities.
In fact, many commentators have said that the global Baha'i community constitutes the single most diverse organized group of people on the planet.
Made up of a truly representative cross-section of all humanity, Baha'is come from every race on earth. Within the Baha'i community, you'll find people of each shade, hue and color. The Baha'i Faith excludes no nationality, ethnic group, culture or class. Because Baha'u'llah's essential message of unity welcomes all, millions of people from more than 2100 racial, ethnic and tribal backgrounds have become Baha'is.
This openness and lack of racial divisions and barriers creates something special and unique, something that has never happened before in our long history: those who believe in Baha'u'llah's teaching of the oneness of humanity also have the remarkable opportunity to immerse themselves in the world's most diverse human community.
Participating in the worldwide Baha'i community brings a new sense of global citizenship to each Baha'i, allowing you to encounter people from every conceivable background. When that happens, your horizons expand. You meet, get to know and develop loving friendships with people who come from different social circles, different racial groups, different cultures and different approaches to life. That rich, expansive and civilizing experience can serve as a natural antidote to prejudice:
…there is need of a superior power to overcome human prejudices, a power which nothing in the world of mankind can withstand and which will overshadow the effect of all other forces at work in human conditions. That irresistible power is the love of God. It is my hope and prayer that it may destroy the prejudice of this one point of distinction between you and unite you all permanently under its hallowed protection. Baha'u'llah has proclaimed the oneness of the world of humanity. He has caused various nations and divergent creeds to unite. He has declared that difference of race and color is like the variegated beauty of flowers in a garden. If you enter a garden, you will see yellow, white, blue, red flowers in profusion and beauty — each radiant within itself and although different from the others, lending its own charm to them. Racial difference in the human kingdom is similar. If all the flowers in a garden were of the same color, the effect would be monotonous and wearying to the eye.

Therefore, Baha'u'llah hath said that the various races of humankind lend a composite harmony and beauty of color to the whole. Let all associate, therefore, in this great human garden even as flowers grow and blend together side by side without discord or disagreement between them. – Abdu'l-Baha, The Promulgation of Universal Peace
You May Also Like