The views expressed in our content reflect individual perspectives and do not represent the official views of the Baha'i Faith.
I believe exploring "Life's Big Questions" is an exciting and important part of our fragile and exhilarating human journey.
I have seen this again and again — in my study of various religious traditions, in my life as a Baha'i, and in my work with Geography of Bliss, SoulPancake, and the podcast series Metaphysical Milkshake, which I host with the amazing author/provocateur Reza Aslan.
My personal battles with mental health demons have given me firsthand experience in the high-stakes pursuit of meaning, purpose, and serenity from a spiritual perspective.
RELATED: Is Caring For Your Mental Health a Spiritual Practice?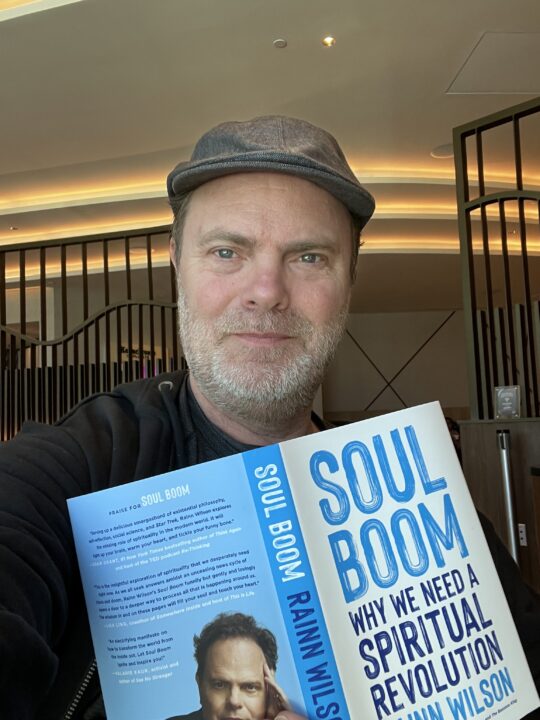 Besides, none of the other people who are way smarter and wiser and more spiritually evolved than me seem to be writing a book about this stuff, so why the hell not some weird, spiritually curious actor? …
Just one more thing then. Beyond my personal interest and journey, there's a bigger "why" behind this endeavor. My principal and overriding motivation for writing Soul Boom: Why We Need a Spiritual Revolution is … found in these words [written on behalf of Shoghi Effendi, the Guardian of the Baha'i Faith]:
We need a change of heart, a reframing of all our conceptions and a new orientation of our activities. The inward life of man as well as his outward environment have to be reshaped if human salvation is to be secured.
As all the existing organizational systems around us break down, we need answers. We need solutions. We need hope. Unity. Love. Compassion. All that gooey, profound stuff that is so easy to sneer at and dismiss in our cynical, fast-paced, modern world.
Yet I sincerely believe that humanity, in order to evolve on both the individual and the societal level, needs a total shift in perspective and a seismic change in how it undertakes pretty much everything. This is the "reshaping" necessary for "human salvation" that the great Baha'i leader and writer Shoghi Effendi references in the above quote.
I hope you'll consider this "big idea" to address the world's problems.
Perhaps the key to healing the world's chaos and pain lies on a spiritual path. Perhaps there are spiritual tools and religious concepts out there that can help us on a societal level, as well as in our own personal transformation. Perhaps a spiritual metamorphosis is required for us to not only thrive but to even survive as we sit at the precipice of annihilation.
So, gentle reader, what topics are we going to tackle … ? Some really light material: pandemics, death, God, religion, holiness, consciousness, suffering, social transformation, and the meaning of life. That's about it.
RELATED: Why Do We Exist, and What Brought Us into Being?
We'll go on sacred pilgrimages to Jerusalem and the Baha'i holy land as well as into the distant future of humanity. We'll tackle small topics like death and God and consciousness and the soul. We'll converse with aliens and break down everything that's currently breaking down in society, and we'll even create our own new, awesome religion. Basically, I'll be throwing a lot of spiritual spaghetti against the wall, and hopefully some of it will stick.
I hope this book will ignite discussion and inspire you, gentle reader, to view some universal spiritual ideas through some different-colored lenses. Sometimes silly, sometimes profound and earnest, I will attempt to explore some very old ground with some very new perspectives. Plus, because I love quotes, along the way there will be a myriad of fun, inspirational sayings from dead people far wiser than me. Quotes like this one: "Dost thou reckon thyself only a puny form When within thee the universe is folded?" —Imam Ali (Islam)
And this one: "The ultimate work of civilization is the unfolding of ever-deeper spiritual understanding." —Arnold Toynbee (historian)
This book will be a wide-ranging smorgasbord of ideas — spiritual and otherwise. Take what you like and leave the rest. Some concepts I hope you'll jibe with and others perhaps not so much. But it's the beginning of a discussion, I hope. A touchstone. A spark. And eventually? A much-needed personal and societal transformation. A spiritual revolution. A boom at the soul level.
This essay is excerpted from Rainn Wilson's new book Soul Boom: Why We Need a Spiritual Revolution, published on April 25, 2023, used with permission of the publisher, Hachette Book Group, and available here: www.soulboom.com
Next: We Are on the Planet for Basically Two Reasons
You May Also Like