The views expressed in our content reflect individual perspectives and do not represent the official views of the Baha'i Faith.
For anyone who thinks that concern over the coronavirus comes from exaggeration in the media or various governments, just talk to a doctor or nurse serving on the front lines of this pandemic.
We only have to get a small glimpse into the lives of our health care workers to see the reality of this virus, and what pressures, stresses, and dangers those who treat it face on a day to day level. I'll share one example of these brave angels of mercy.
After saying a Baha'i prayer for protection, my beautiful friend Kedi Davidson and her husband Jared leave behind their family of seven each day to face unknown danger as nurses in one of the hotbeds of the virus – Sacramento, California. Jared works in the Emergency Department at a large hospital, where he risks exposure to COVID-19 on a daily basis. His temperature must be monitored twice a day. The stress level the couple experience is off the charts.
Kedi told me that the virus is spreading so quickly that tents are being raised by most hospitals to triage the consistent flow of those presenting signs of the virus. She fears for her fellow nurses and doctors because often personal protective equipment (PPE) is not available.
"Sooner or later we will get the virus," Kedi speculates for the couple. "Our worry is for the vulnerable, the immune-compromised, and the babies. The hardest part is that we might expose our 10 month old granddaughter, Sophia."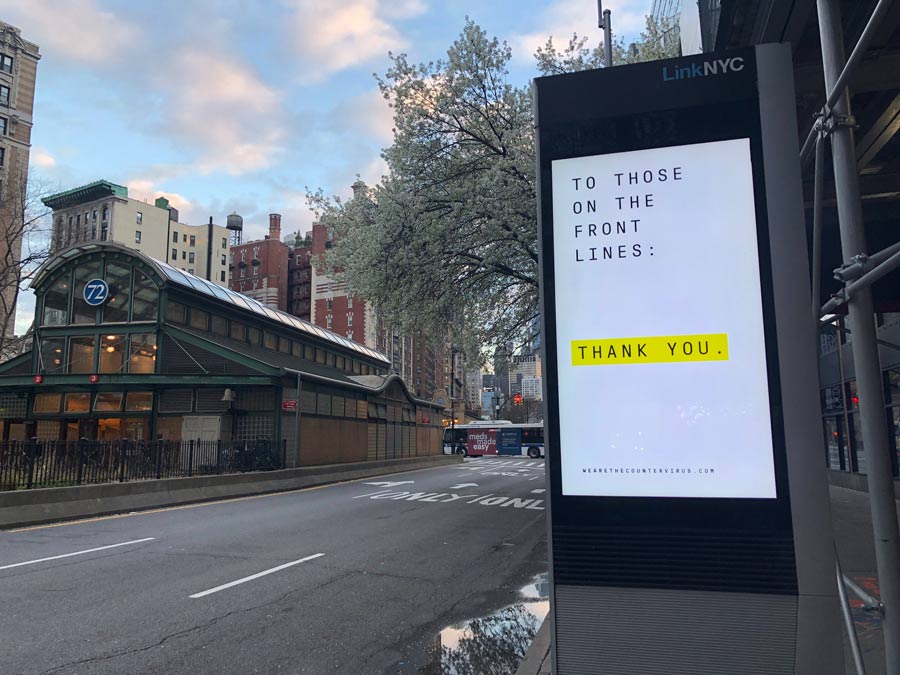 At the same time, the couple's 18 year old daughter, Carmel is serving in the Navy at Great Lakes Navy base in Illinois. Because of the pandemic, contact and support of the family was cut off to their young daughter, and she will have to graduate from basic training alone in April. "I basically cry myself to sleep every night. I miss Carmel terribly," Kedi confided. "But knowing that God will be with her at all times, comforts me."
Because the family will not be at their daughter's graduation ceremony, the highlight of basic training completion, they have joined together with other Navy families in creating a collage. Each family took pictures holding a sign of encouragement and congratulations to be sent to their sons and daughters at the Navy base. On April 17th when their daughter graduates, a US flag will be flown in her honor at the capitol steps in Sacramento.
Jared and Kedi are both members of the Baha'i Faith, and Kedi told me they could never imagine getting through the nightmare that is their lives now without the comforting counsels found in the Baha'i writings. This prayer from Abdu'l-Baha is one of her favorites:
O ye that are enamoured of the divine Beauty! O ye that are enraptured by the true Beloved! In this day when the fierce gales of tests and trials have encompassed the world, and fear and trembling have agitated the planet, ye must appear above the horizon of unwavering constancy with shining faces and radiant brows in such wise that the gloom of terror and confusion may be entirely obliterated and the light of certitude may shine resplendent in the luminous skies.
Both Kedi and her husband have witnessed another heartbreaking consequence of COVID-19, when those who are dying are completely cut off from their families. In the end, those who have succumbed to this virulent virus must die alone. With that in mind, the couple told me that one of the first things they did was to sit their children down and discuss what would happen to them in the worst case scenario. "That was one of the hardest things I ever had to do," said Kedi.
Fortunately, for us, the Davidson's remain on the frontlines for now, serving those who have contracted this elusive and hostile disease.
In addition to the brave angels in the health care industry, thousands of other individuals serve humanity on the front lines. My husband is an Officer in the California State Guard, commanding service members in health screening teams. He has two jobs now!
My friend Jenny works at our local market. She puts herself at risk each day as she gathers carts full of food for delivery and pick-up so our most at-risk community members can stay safe at home.
Actually, every service industry that deals with the public now takes the chance that they too might contract the virus, or perhaps bring it home to their families. For their selfless service, we should look for ways to show our gratitude.
Our Baha'i community regularly meets online or via conference call to pray for the Davidson family, and for all those on the front lines or suffering the most during this pandemic. We have started a meal train to help the Davidson family so that after working long exhaustive hours, they can at least have one less thing to attend to. My daughter and I write letters of encouragement to the staff and residents of our local nursing home, and any time we can, we let those who risk their own health know how much we appreciate them!
So if you can, take a moment out of your day to acknowledge and appreciate the courageous souls at the forefront of the COVID-19 crisis. Let them know in creative ways that you are behind them and their families. They deserve our deepest gratitude, support, and indebtedness because they are literally keeping us alive. Send those on the front lines words of gratitude and encouragement. Offer up a prayer for their safety, like this Baha'i prayer for protection:
O my Lord! Thou knowest that the people are encircled with pain and calamities and are environed with hardships and trouble. Every trial doth attack man and every dire adversity doth assail him like unto the assault of a serpent. There is no shelter and asylum for him except under the wing of Thy protection, preservation, guard and custody.

O Thou the Merciful One! O my Lord! Make Thy protection my armor, Thy preservation my shield, humbleness before the door of Thy oneness my guard, and Thy custody and defense my fortress and my abode. Preserve me from the suggestions of self and desire, and guard me from every sickness, trial, difficulty and ordeal.

Verily, Thou art the Protector, the Guardian, the Preserver, the Sufficer, and verily, Thou art the Merciful of the Most Merciful. – Abdu'l-Baha, Baha'i Prayers

You May Also Like