The views expressed in our content reflect individual perspectives and do not represent the official views of the Baha'i Faith.
When many of us look ahead toward our retirement, we fantasize about doing exactly what we want rather than being constrained by our jobs for most of the week.
For some that fantasy might be a dream of being on an endless cruise to visit tourist sites, for others it might be about spending most days with the grandchildren, and for others just enjoying long hours of reading in the sun.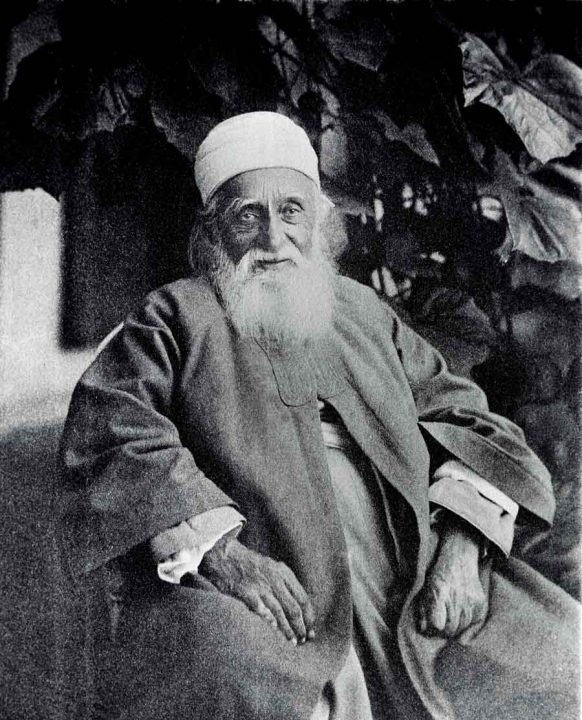 Checking for guidance in the Baha'i writings on this issue, there does not appear to be anything explicit, so generally Baha'is look to the life and example of Abdu'l-Baha for insight. For Baha'is, Abdu'l-Baha – the son and successor of Baha'u'llah, the prophet and founder of the Baha'i Faith – serves as the perfect exemplar of his father's teachings.
Learning about Abdu'l-Baha's example in his later years became a by-product of working on my new photobook "Fragrance of Glory. An illustrated account of the Ascension of Abdu'l-Baha," a volume appearing during the year of the centenary of his passing in 1921.
What better way to understand his example than to zero in on what Abdu'l-Baha revealed about his own future death? In one of his prayers, made available in an English translation just recently, he stated his feelings quite clearly:
O Lord! Grant me a measure of Thy grace and loving-kindness, Thy care and protection, Thy shelter and bounty, that the end of my days may be distinguished above their beginning, and the close of my life may open the portals to Thy manifold blessings.
Given that Abdu'l-Baha had clearly stated that his station was "the station of servitude," it is surely obvious that he did not intend to lessen his service to humanity as he approached the likely time of his ascension.
In fact, between the ages of 75 and his passing at 77, he was still intensely active. He attended to his voluminous correspondence and met with the Baha'i pilgrims from both the East and West, serving them food for both the soul and the body. He was a good cook, and liked to personally dispense it to the visiting Baha'is seated at his table.
During this post-WWI period, Abdu'l-Baha maintained good relations with the British mandate authorities in the Holy Land. They were so impressed that they awarded Him a Knighthood (K.B.E.) with the citation noting that his advice had been most valuable and that "all his influence has been for the good."
Rather than personally glory in such high recognition, Abdu'l-Baha used it for the good of others, in particular by writing to British diplomats in Persia to ask them to urge the government there to protect the Baha'is from their persecutors.
In 1920, Abdu'l-Baha outlined the Baha'i approach to peace in two tablets delivered to the Hague and addressed to the Executive Committee of the Central Organisation for a Durable Peace, one of the predecessors to the United Nations.
On a personal level, early risers might have spotted Abdu'l-Baha leaving his home each day and making his way to the poor parts of Haifa, where he handed out food, coins, and clothes to the needy while uttering words of support.
Self-indulgence was not on his agenda in his final years, just as it had been absent during the rest of his life. Yes, Abdu'l-Baha wanted to travel – to Kashgar, India and the nations of the Pacific – but it would be to spread the Baha'i teachings of peace and unity, not to sightsee like a tourist. He did spend time with his grandchildren, including Shoghi Effendi, whom he carefully trained to be his successor. As for spending long hours reading in the sun, Abdu'l-Baha spent hours reading and answering letters from Baha'is around the world.
In any free time he had, he would stay in his small room on top of a house close to the Shrine of the Bab. This enabled him to go often to pray at the threshold of that holy Shrine, either alone or with pilgrims.
We also know what he was thinking about his passing from various quotations selected by Shoghi Effendi for his book God Passes By. Those excerpts show Abdu'l-Baha prayed that God would hasten His "ascension unto Thy sublime Threshold." In fact, he said he yearned every day "to take My flight unto Thy Kingdom."
Unlike most of us, Abdu'l-Baha had no apprehension about his forthcoming death – he looked forward to it with great anticipation, just as he had told one inquirer in London years before: "How does one look forward to the goal of any journey? With hope and with expectation. It is even so with the end of this earthly journey."
As he had revealed in an exquisite prayer, he knew that his existence would be perpetuated in God's "exalted rose garden," and that death would allow him to "… plunge into the sea of light in the world of mysteries."
In a prayer in his Will and Testament, Abdu'l-Baha supplicated to God "… that in my last hour, my end may even as musk, shed its fragrance of glory!"
While writing the text of my book on Abdu'l-Baha's ascension, and in compiling some 80 photographs including 21 of his funeral, it became clear that everything about his last years was perfumed with a spiritual musk, and that he departed this world leaving a fragrant trail of glory.
You May Also Like