The views expressed in our content reflect individual perspectives and do not represent the official views of the Baha'i Faith.
Last year, I felt despondent and deeply wounded due to the mental, emotional, and spiritual toll of racism. And my experiences are, sadly, not unique.
I reflected on how Baha'u'llah, the prophet and founder of the Baha'i Faith, made the unity of humanity one of the key teachings. He wrote in the mid-19th century that "The well-being of mankind, its peace and security, are unattainable unless and until its unity is firmly established." However, being a Baha'i does not insulate me or anyone else who is Black from experiencing racism. Through conversations with other Black Baha'is, it became clear we needed a safe space to come together — we needed to heal, encourage, and empower each other.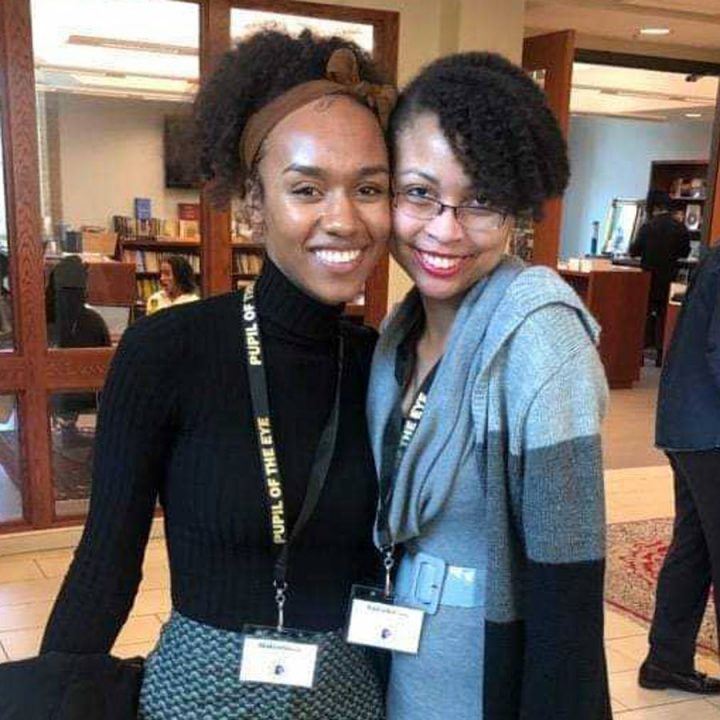 The result was the first-ever Arise Pupil of the Eye conference held in Nashville, Tennessee, over Thanksgiving weekend last fall. I've been reflecting on how pivotal this conference was in helping me heal from racism I've experienced because, in late June, I attended the second Arise Pupil of the Eye conference.
The conference is titled "Arise Pupil of the Eye" because Baha'is believe that people of African descent have been given a special station and unique role to offer humanity. Baha'u'llah called Black people, the "pupil of the eye." And, Abdu'l-Baha, his son and one of the central figures of the Baha'i Faith, wrote:
"O thou who art pure in heart, sanctified in spirit, peerless in character, beauteous in face! Thy photograph hath been received revealing thy physical frame in the utmost grace and the best appearance. Thou art dark in countenance and bright in character. Thou art like unto the pupil of the eye which is dark in colour, yet it is the fount of light and the revealer of the contingent world.

I have not forgotten nor will I forget thee. I beseech God that He may graciously make thee the sign of His bounty amidst mankind, illumine thy face with the light of such blessings as are vouchsafed by the merciful Lord, single thee out for His love in this age which is distinguished among all the past ages and centuries."
We live in a time when Black people can be killed, as Trayvon Martin was, for wearing a hoodie. We can, like Rayshard Brooks, be killed for sleeping in a car. All Atatiana Jefferson did was look out her window, and she was killed by police.
These killings take a toll on Black folks, not to mention the many day-to-day incidences of racism we experience at work, at school, and in the broader community. With justice rarely being served, it's easy to wonder if God has forgotten us. That conference in November — and the second one in June— created a space for us to remind each other that Black people, the pupil of the eye, have been singled out for God's love in this age. Therefore, it is our responsibility to be that "fount of light" that enables humanity to see.
Without a pupil, you are blind. And, sadly, because of white supremacy, white people are often blind to the reality of injustice and racial oppression. Speaker and author Barbara Talley — my mom — served as the main organizer for both conferences, along with our friend Sue St. Clair. My mom said that we couldn't wait for other people's validation, acceptance, and approval. It is up to us to arise and keep showing the world what we have to offer.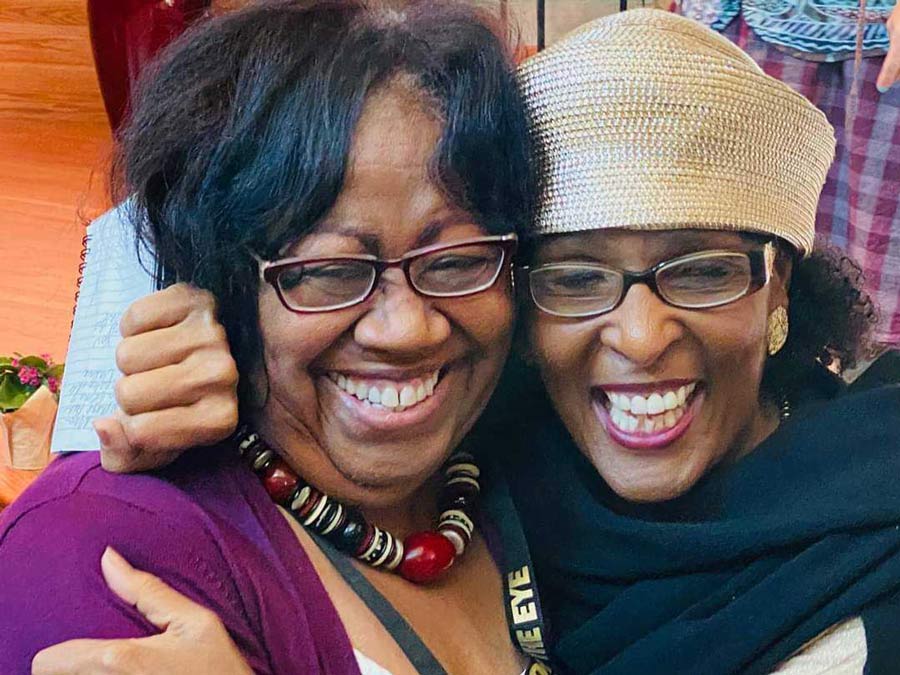 ---
Abdu'l-Baha said, "In this black pupil you see the reflection of that which is before it, and through it the light of the Spirit shines forth." Black people need these spaces so we can see ourselves, too. We need to be able to see our beauty, talents, skills, and capabilities reflected in each other.
Both conferences were spaces where we could reaffirm each other's value and soothe each other's souls. This most recent conference in June was a virtual event due to the coronavirus pandemic. But the event in November was one of the few times in my life that I've been entirely surrounded by people who look like me. It was like a family reunion with people I have never met.
Many white people don't understand how painful and stressful it is to be the only representation of your demographic in a classroom or workplace — a "minority" as society calls us. The term "minority" implies that we are minor, subordinate, and worth less than those who are of the "majority" culture in a given space in this country. Black people are constantly expected to conform to white American culture. We are often turned into tokens and used to assuage white guilt and shame.
But at that first Arise Pupil of the Eye conference, I felt comfortable, accepted, and normal. I didn't have to explain or prove myself because we all could look at each other and know where we were each coming from. Around 300 of us laughed, cried, and sang together throughout that weekend. As I told my mom, you don't realize how much you have been holding your breath until you're in a space where you can finally exhale.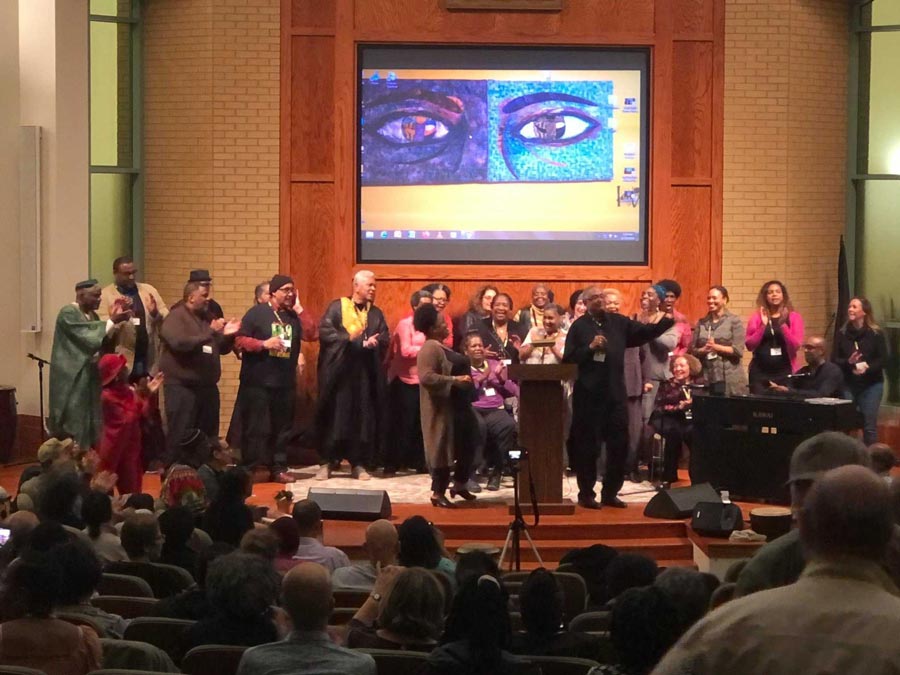 Although many attendees went into that conference with slumped shoulders and bent backs, we came out standing tall and proud of who we are and what we have to offer, and understanding that our centuries of suffering have not been in vain. It's no wonder then that the initial conference generated service and Black empowerment efforts throughout the nation.
In the 1950s, Shoghi Effendi, the Guardian of the Baha'i Faith, told Dr. Mehdi Samandari, a Baha'i who had traveled to Africa, to show a quote from the Qur'an to every African he met and tell them that it referred to them. The quote was:
"And We desire to show favor to those who were brought low in the land, and to make them spiritual leaders among men, and to make of them Our heirs."
This quote was proudly displayed on the back of the official conference shirt that my mom designed for the conference. When I wear it, I'm reminded that I do not need to ask permission to arise. Black people are meant to lead and let our spirits shine.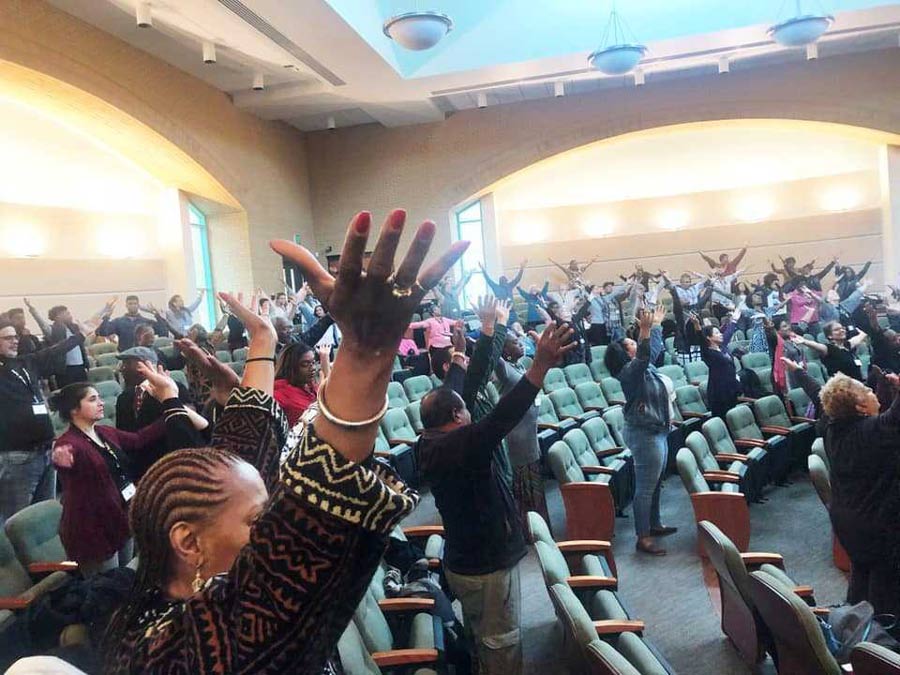 You May Also Like