Volunteers from the village of Namawanga, Kenya and the surrounding area joined together in recent months to undertake the construction of an 800-square-meter educational facility for their village.
The Kenyan Baha'is, who managed the project, found that years of experience with community-building activities enabled them to create a collaborative environment for this undertaking and to make creative use of locally sourced materials and tools. The building will act as a center for the Baha'i community's efforts to raise capacity for service to humanity.
"The need for these facilities is very urgent in many Kenyan communities, but the question was how do we do this," says Alfred Mango, architect for the project and a member of Kenya's Baha'i community. "There had to be a means to achieve this kind of construction."
---
For many years, the local Baha'i community here has been engaged in activities aimed at collective worship, spiritual education, and social and economic development. Through their participation in these initiatives, many people in Namawanga have gained experience in coordination and planning, united decision-making, and collective action.
This enabled them, Mr. Mango continues, to identify "a building method that would be sustainable, affordable, and would involve the community's participation."
The project used a hydraulic machine that presses bricks made of nine parts soil and one part cement. The machine, simple to use and made freely available by the Kenyan government, enables groups and communities to produce interlocking bricks that are simple to assemble with no need for mortar.
All this reduces labor and material costs significantly. It also has environmental benefits—the bricks do not need to be transported to the site and are dried in the sun rather than fired in a kiln. The facility has other sustainable technologies, such as an on-site wastewater treatment system. Plans are in place to install solar-powered lighting; together, these technologies would cut utility costs by about half, Mr. Mango says.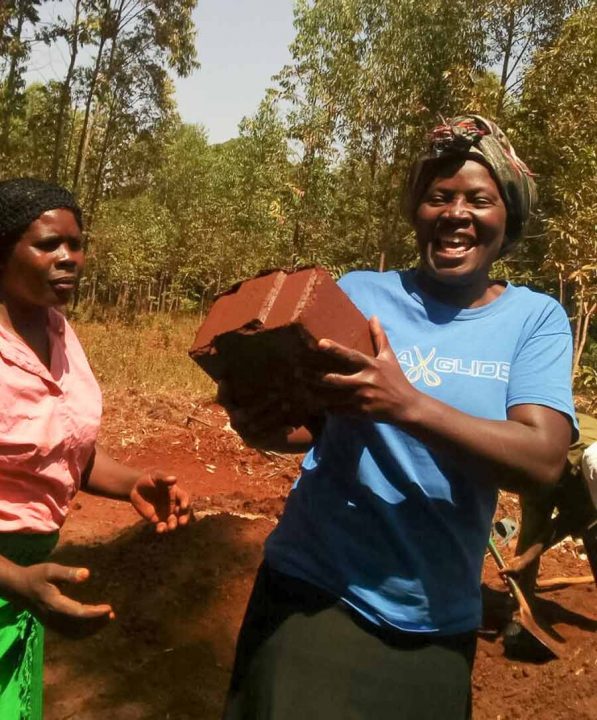 ---
"Producing the bricks was challenging at first, but in the end it was a victory – we molded 40,000 units," says Elizabeth Wanyonyi, who serves on Namawanga's Baha'i Local Spiritual Assembly.
"The construction project actually started with just the community of Namawanga. But then it grew to involve the surrounding region," explains Ms. Wanyonyi.
When nearby communities learned of the work, they all pledged to send volunteers for several days or weeks at a time. Volunteers dug up soil, operated the brick-making machine, and assembled the structure of the building. Others provided meals or contributed financially.
"Every day the spirit of consultation and reflection kept us going as we learned through action," explains Moses Kisudia, who is part of a committee of Kenya's Baha'i community that manages the development of new local and regional buildings. "And because we need to have such facilities in other communities in Kenya, we also invited volunteers from other areas to learn so that when their time comes they can extend the skills to others."
He adds that the collective nature of the project affects how the community thinks about this facility: "You could see on the day we opened the building that people took it as something they themselves own, a fruit of their labor."

You May Also Like