The views expressed in our content reflect individual perspectives and do not represent the official views of the Baha'i Faith.
Sometimes, it seems that racism and hate dominate our headlines. Recent events, particularly related to racial injustice and the inequality that grows with the COVID-19 pandemic, force us to ponder the times we live in and the nature of human beings. Are prejudice and disunity in the face of crisis inevitable?
But many times, adversity, though not desirable, brings out the best in human beings. A story of a community in Peterborough, Ontario, made headlines in many media outlets a few years ago. Now, as we grapple with the need to act as a united front while our prejudices still divide us, I believe Peterborough's story can be an inspiring example of how love and fellowship can follow disaster.
On November 14, 2015, in the dark of night, someone approached Peterborough's Al-Salaam mosque from the east, smashed one of the large side windows, and hurled an accelerant inside. Kenzu Abdella, a Trent University professor and the president of the Kawartha Muslim Religious Association, got a call about 11:00 p.m. that night from a friend, who said, "The mosque is on fire."
Abdella raced down the street and, within 10 minutes, arrived at the building. Smoke poured from the mosque. As one can imagine, his heart ached with terror and sadness as the house of worship he cared so much for was engulfed in a destructive flame. The Al-Salaam Mosque served about one thousand people in and around Peterborough. All Abdella could think of was the morning and evening prayers, as well as the many religious festivities that could no longer be held in this place.
The firefighters extinguished the blaze. No one was hurt, but when the insurance adjusters inspected the charred building, they estimated the repairs would cost between $80,000 and $100,000.
RELATED: Battling Bias Where it Begins: Ourselves
Proverbs 17:17 says, "A friend loves at all times, and a brother is born for a time of adversity," and this theme of generosity runs through the holy scriptures of all religions — among them, the Bible, Qur'an, and Bhagavad Gita. It is a universal teaching for all faiths. As Abdu'l-Baha, the son of the prophet and founder of the Baha'i Faith, Baha'u'llah, wrote: "All the divine Manifestations have proclaimed the oneness of God and the unity of mankind. They have taught that men should love and mutually help each other in order that they might progress." 
In Peterborough, word spread fast, and the town rallied to help the Muslim community. Israel Synagogue president Larry Gillman heard the bad news and emailed his board with a request to share the synagogue with the Muslim community, knowing that the members would not have a place to pray in the ensuing days and months until the restoration was done. The board's response was unanimous, immediate, and positive. For two weeks, the Jumu'ah prayer (Friday congressional prayer) was held at Beth Israel Synagogue — a first in Canada. Upon reflection, Larry made a profound remark. He said, "There's been so much bad press between Muslims and Jews, and we hope for a better world. We hope for peace and, in Canada, we're neighbors."
Although it can be challenging to accept, difficulty is part of being human. Baha'u'llah wrote that God has made adversity "as a morning dew upon His green pasture, and a wick for His lamp which lighteth earth and heaven." In addition to the synagogue, 15 churches offered space for morning and evening prayers. The members of Masjid Al-Salaam chose five churches of varying faiths and accepted the offers. A few days later, private citizens initiated a crowdfunding campaign, and within two days, more than $110,000 had been raised to rebuild the mosque.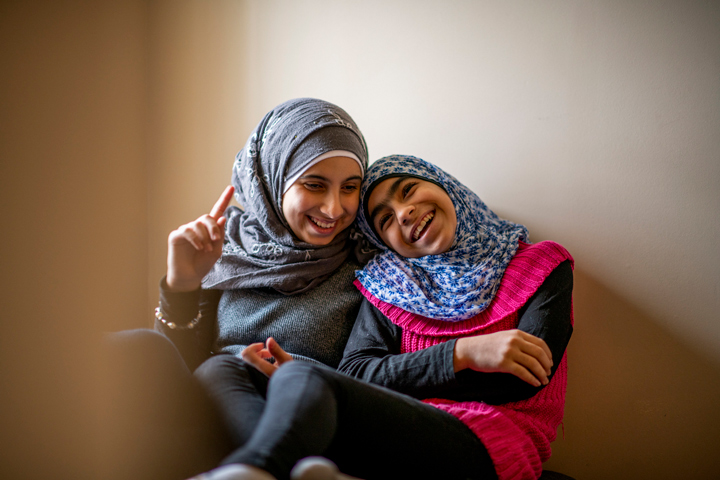 Kenzu Abdella was very touched as a hateful crime turned into something positive. In an article in Peterborough Examiner, he said,  "Understanding is good, but I think we need to go beyond that to create an environment … that brings everybody together … I don't think it should be forgotten."
RELATED: Ally or Associate: Which Would You Like to Be?
The mosque reopened in late December after repairs were made, and the Prime Minister was among those who attended its open house.
Almost a hundred years ago, when the world seemed to be primitive in global consciousness compared to now, Abdu'l-Baha said, "Know that God is compassionate towards all; therefore, love all from the depths of your hearts, prefer all religionists before yourselves, be filled with love for every race, and be kind towards the people of all nationalities." We can see the echoes of Abdu'l-Baha's sentiments in the hearts of Peterborough's citizens and draw inspiration for how our communities can rally in the face of hardship.
The oneness of humanity is a pivotal principle of the Baha'i Faith. This heartwarming story of compassion and kindness is a perfect example of how people of different faiths and races can come together to help our fellow human beings.
You May Also Like