The views expressed in our content reflect individual perspectives and do not represent the official views of the Baha'i Faith.
When the creators of First Valley Books saw a lack of diversity and empowering content on their children's bookshelves, they decided to take matters into their own hands.
They began to search the world for the true stories of real children in history, whose strong sense of courage, determination and justice could enthuse, entertain and empower children today. Together, they collected those stories and collaborated with amazing writers, illustrators, historians and publishers to bring us their first publication, titled Little Champions of Justice.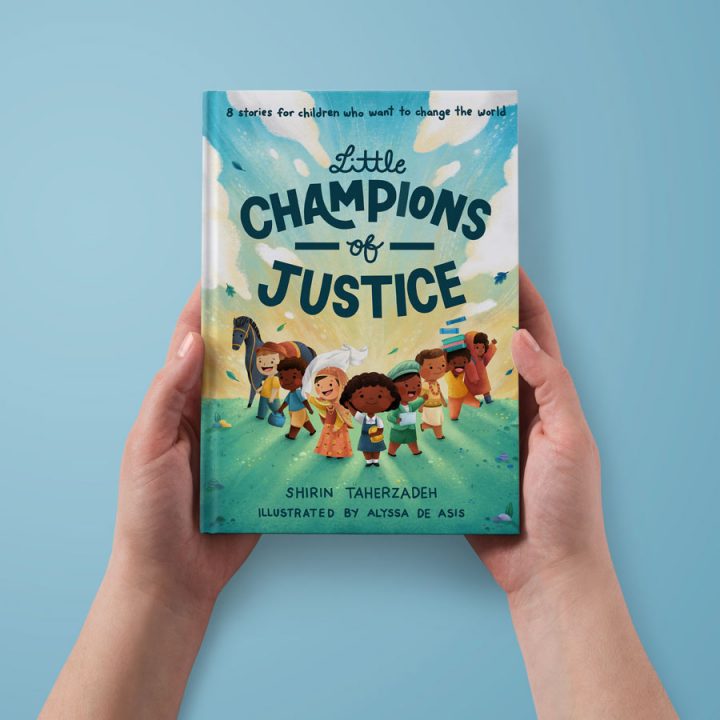 This particular story may inspire and motivate parents to address a need – however large or small – and encourage their children to become champions of justice, in their own unique and creative ways.
We were able to chat with the team at First Valley Books to learn more about the story and inspiration behind Little Champions of Justice, and why everyone is so excited about it.
Q: Could you start by sharing some of the motivating factors behind this initiative and what inspired you to title your children's book Little Champions of Justice?
A: Thank you so much! We're a team of storytellers, creatives and social justice activists scattered across the globe. As you mentioned, about a year ago we took a hard look at our children's bookshelves and we found that despite the many children's books out there, very few inspire our children to act with courage, kindness and compassion, and even fewer reflect the diversity of humanity.
Recognizing, as the Baha'i teachings say, that "… every child is potentially the light of the world" – Abdu'l-Baha, Selections From the Writings of Abdu'l-Baha, p. 130 – we want our children and others to draw inspiration from the lives of these courageous individuals, so they can act in ways that bring light to our world. We want them to see that no matter how big or small their own actions may seem, when they act with courage, determination and compassion in order to change our world, they too can champion justice.
Q: Many of us grapple with how to have healthy, constructive conversations about race and justice with children – and with adults, for that matter. How does your book make those topics accessible?
A: Talking about race, racism and the need for justice is so important, yet as parents we often struggle to have these conversations with our children because it can be really hard!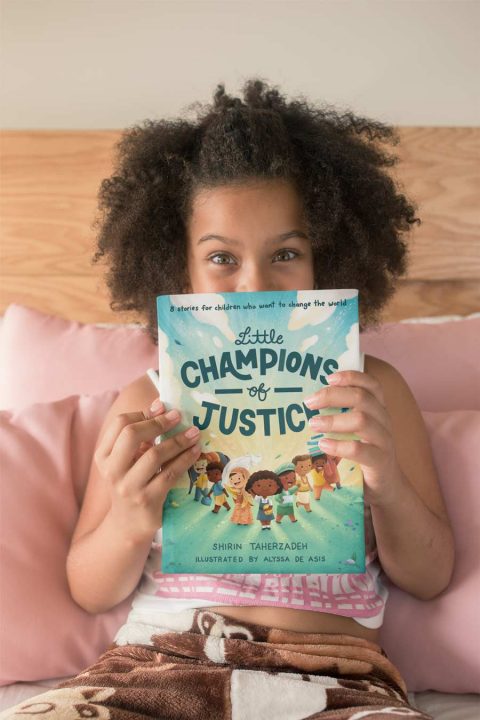 We know that storytelling gives us a powerful tool to engage in these conversations. In Little Champions of Justice the protagonists are not only ethnically diverse, but in some of the stories the protagonists stand up against racism.
In each story we focus on an anecdote from the childhood of the protagonist, or in some cases we tell the story from the perspective of a child, enabling children to easily slip into the shoes of the protagonist and experience their world, their fears and their courage.
Q: Who are these Little Champions of Justice? How and why did you choose to write about them?
A: The book tells the true stories of four girls and four boys from around the world whose actions have contributed to making the world a better place. They include the revolutionary poetess Tahirih, astronaut Ron McNair, women's rights activist Nhlumba Bertha Mkhize, and environmentalist Richard St. Barbe Baker, all of whom were inspired by Baha'i teachings about justice. The prophet and founder of the Baha'i Faith, Baha'u'llah, wrote:
The best beloved of all things in My sight is Justice; turn not away therefrom … By its aid thou shalt see with thine own eyes and not through the eyes of others, and shalt know of thine own knowledge and not through the knowledge of thy neighbour. – The Hidden Words, pp. 3-4.
Through each story, we wanted to reflect on these words, and highlight a different cause for justice, such as the right to education, gender equality, standing up against racism, and promoting environmental sustainability.
Q: All of these stories are true?
A: Yes, and they are culturally and historically accurate. We dove into archives, interviewed protagonists' family members and spoke to historians to make sure of that – which made for a humbling and at times surprising experience!
For example, whilst researching about one of the protagonists, we came across the name Nhlumba Bertha Mkhize in the footnote of an article. Curious as to who she was, we started to read about her. We were so inspired and humbled to learn of the incredible sacrifices she made in promoting women's rights in South Africa, that we knew she had to be in the book.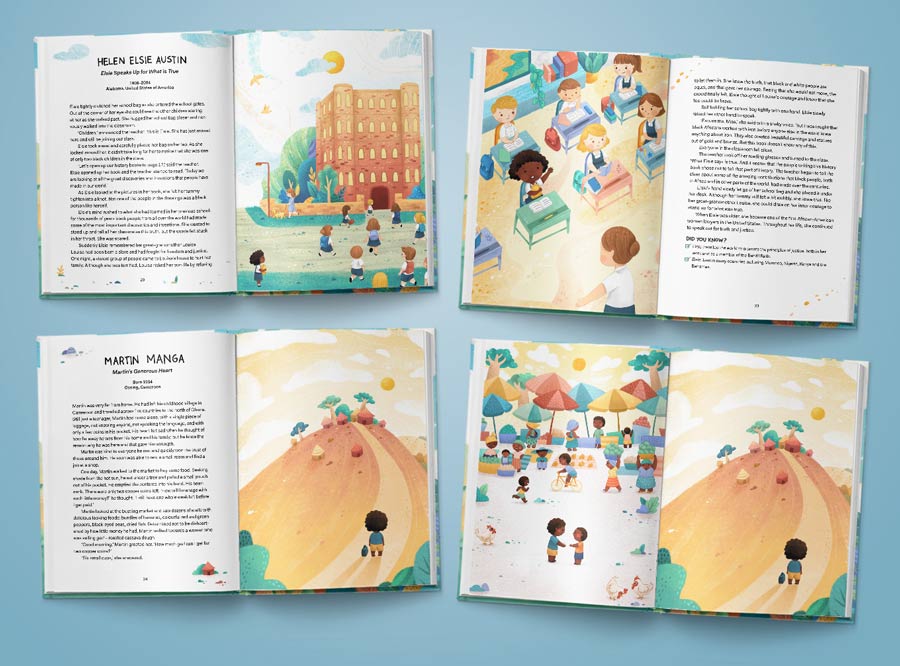 We can't help but wonder how many other Berthas' exist, whose names are merely footnotes in articles and history books.
Q: The team behind this project is located all over the world. Could you tell us about yourselves, where you're located and what the collaborative process looked like, when working with such distances?
A: We're a five-person team living in the UK, US, Israel, and the Philippines: Shirin Taherzadeh, Alyssa De Asis, Yas Taherzadeh, Anjali Pala, and Neysan Mehrabkhani — each taking on multiple roles. It's been incredibly enriching and joyful to learn from one another, to learn how to collaborate across continents, in various virtual spaces, and to challenge the traditional ideas and methods of what it means to write and publish a book.
Q: Who are these stories for?
A: The themes in these stories are universal and timeless, and we wanted the stories to be accessible to everyone, young and old, Baha'is and their friends, as well as those who may not have come across the Baha'i Faith before. Although we wrote the book with 5-10 year old children in mind, we hope that parents and children will read these stories together – and be inspired to have the courage to bring about change.
Q: What are some Baha'i principles that guided the creative process of this project from inception to delivery?
A: At the heart of this process, we wanted to learn how to create something that facilitates meaningful conversations with children and inspires them to become champions of justice. In order to do this, we needed to make sure the stories resonated with children around the world. So from the very beginning, we collaborated closely with a growing community of parents worldwide, sharing drafts and illustrations at every stage of the process, as the Baha'i teachings suggest, and incorporating their invaluable feedback into our work:
Man must consult on all matters, whether major or minor, so that he may become cognizant of what is good. Consultation giveth him insight into things and enableth him to delve into questions which are unknown. – Abdu'l-Baha, From a tablet to an individual Baha'i.
Q: What feedback did you receive about the project so far?
A: We've been blown away by the incredible response and support! Hundreds of friends and strangers – both from within and outside the Baha'i community – have already ordered the book as gifts for their children, their friends' children, as well as for their local libraries and schools. We're incredibly excited to have such a diverse readership!
Q: You're publishing this book in a really interesting and unique way, by only making it available for purchase for a limited time through your Kickstarter campaign, which ends on December 11. Why did you choose to go with kickstarter?
A: We're an independent publisher, so in order for the book to be affordable we needed a platform with a community that would get us a sizeable number of orders to pay for the printing. Plus, Kickstarter lets us tell the story of this book, so you know what you're ordering.
Q: Just to reiterate, the only way to purchase Little Champions of Justice is through the Kickstarter campaign before the deadline of December 11, correct?
A: Yes, that's correct, and we recommend getting bundles of 3, 5, or 10 as gifts for your friends, family and to your schools and libraries.
Q: Thanks so much for your time in answering these questions and all the best to the team at First Valley Books.
A: Thank you! Click here to get your own copy of Little Champions of Justice!
You May Also Like