The views expressed in our content reflect individual perspectives and do not represent the official views of the Baha'i Faith.
Over the years, I've seen how the love between a couple can strengthen their spirituality and commitment to community service, and even heard stories from family friends about how their interracial marriages inspired relatives to overcome their racial biases and barriers.
These heartwarming and inspiring stories make me wonder: Do soulmates exist? And if they do, what is that exact moment when a person realizes that someone is the love of their life which they choose to spend eternity with? Did they experience an intense physical attraction, a strong emotional connection, a conscious awareness that this person had the spiritual qualities they have been looking for — or all of the above?
RELATED: Interracial Marriage: A Love at First Sight Story
Merriam-Webster defines "soulmate" as "a person who is perfectly suited to another in temperament." Although the word "soulmate" doesn't appear anywhere in the Baha'i writings, Baha'is do believe that spouses should be so united as if they're a single soul, so their union will last forever. As Abdu'l-Baha, one of the central figures of the Baha'i Faith, wrote, "husband and wife should be united both physically and spiritually, that they may ever improve the spiritual life of each other, and may enjoy everlasting unity throughout all the worlds of God."
With that in mind, I believe that God can lead us to our ideal match, if that is what we desire. I approach the concept of a soulmate as being the one you marry who you share a physical, emotional, and spiritual attraction and connection with. That's why I decided to ask several Baha'i friends to share with me their stories of how and when they knew that they had met and found their "soulmates."
An Instant Soul Connection: Hoda and Sam Hosseini
Fort Lauderdale, Florida residents Hoda and Sam Hosseini instantly knew that they had each found their soulmate when they met. They met in 1983 at a Baha'i gathering when they were each 23-years-old. Sam says he watched as Hoda got up on the podium and began speaking about the spiritual capacity of young people.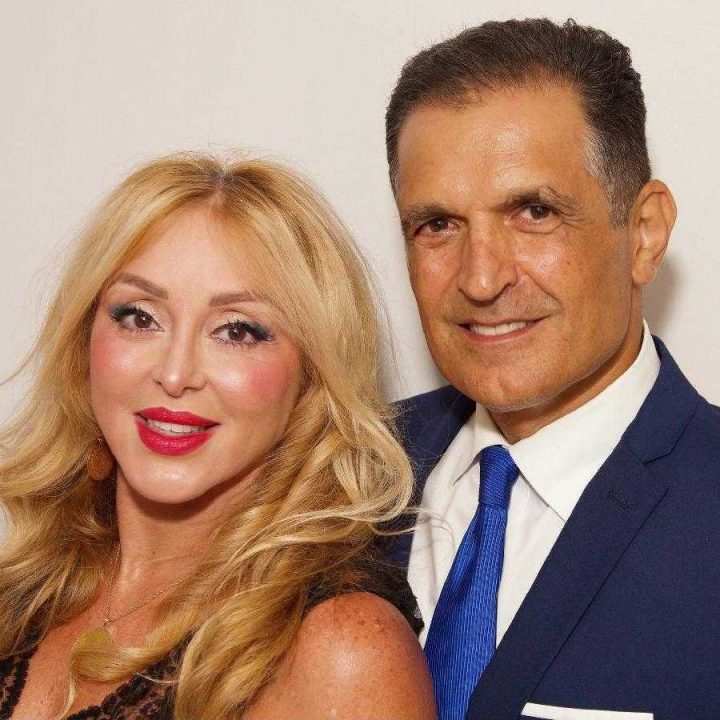 "I liked her energy and the way she was representing herself," Sam says. "Everything about her spirit grabbed me — it attracted me. I asked my brother, 'Who is she?'" and my brother said, 'Don't mess with her.'" But after learning a little more about Hoda, Sam told his brother, "I'm not going to be fooling around. She's going to be my wife."
Hoda had a similar reaction when she first met Sam during one of the convention's lunches. Her shoes were uncomfortable, and she was telling a friend about how her feet hurt. "And all of a sudden," Hoda says, "I heard this guy say, 'Yeah, if I was wearing high heel shoes like you, I would be in pain too. You should be wearing boots like me.' And he had this Persian cowboy accent. I turned around and looked at him, and I saw his smile, and it's just like my heart just sank. And then it was like, 'Wow, he's fine!'"
The first time Sam held her hand, they felt electricity. "We both got zapped," Hoda says. "It was very special for both of us."
"It was very clear that she is a strong character," Sam says. "I'm a strong personality," he adds. "I wanted someone that challenged me too to grow."
Sam proposed to Hoda two weeks after meeting her on October 5, 1983, and they got married that following summer in 1984.
"You build your character, you develop your soul in your marriage, and you develop that unconditional love for another human being." Sam says, "It's something that will be eternal. It will last forever. It's like fate." So, when he asked himself which partner he would want to "go through the other worlds of God with," he says he had one answer: "Definitely her."
Becoming a Single Soul: Carmen and Culous Brown
The Baha'i writings say that God "made woman and man to abide with each other in the closest companionship, and to be even as a single soul. They are two helpmates, two intimate friends, who should be concerned about the welfare of each other."
That describes Carmen and Culous Brown, a couple living in Nashville, who have been married for 34 years. They met in 1985 when he was 20, and she was 22. They worked at the same restaurant — she was a college student who worked as a server, and he was a cook. Carmen wrote in an email that Culous "told the other coworkers, 'That's gonna be my wife one day.' And the other coworkers told him, 'Man, you ain't gonna get her, she's a college student.' So, one day he was sitting at a booth at work, and he asked, 'Would I join him for lunch?' So, I did, and we've been together ever since."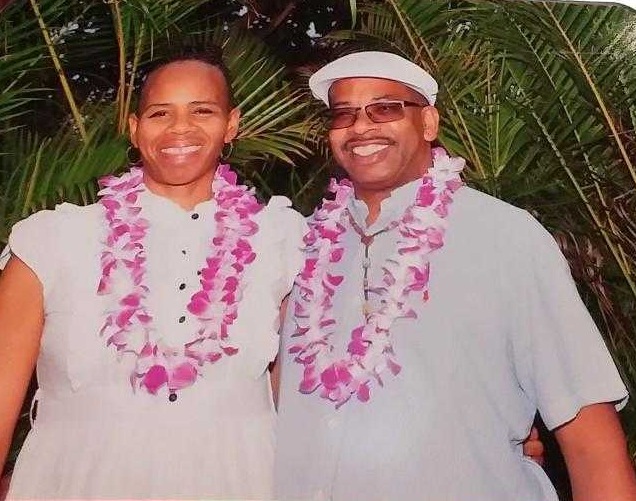 Carmen and Culous got to know each other for a year and a half before getting married in 1987. After reflecting on what made her realize that Culous was the one for her, Carmen wrote, "They say you look for your father in your male spouse. I can see some of the qualities in him, such as a provider, a protector, a hard worker. And you also try to find that mate to heal parts of you that were not healed with your father. Now I can clearly see that. I have someone who will not leave, no matter how difficult it gets. I have someone here who loves me unconditionally and will not abandon me no matter how I try to go into myself."
RELATED: The Beauty of Having a Spiritual Relationship with your Partner
"Because we were young, in our early twenties, we had to grow up together," Carmen wrote. And because they "started out as true friends" and they accept each other, they've been able "to work through all the trials we ran into." Carmen explains that they "stayed married through [the] loss of a child, loss of both of our fathers, accidentally cutting off three of his fingers, and we are going strong. We really love and care for each other. One of my husband's childhood friends told us a month ago, 'When you see one (me or my husband), you see the other,' and that's beautiful."
A Spiritual Bond Through Service: Oriana Vento and Nabil Grueso
Oriana Vento, 27, and Nabil Grueso, 25, didn't know that they were soulmates when they first met in Haifa, Israel in 2018. But over time, their friendship deepened into something more.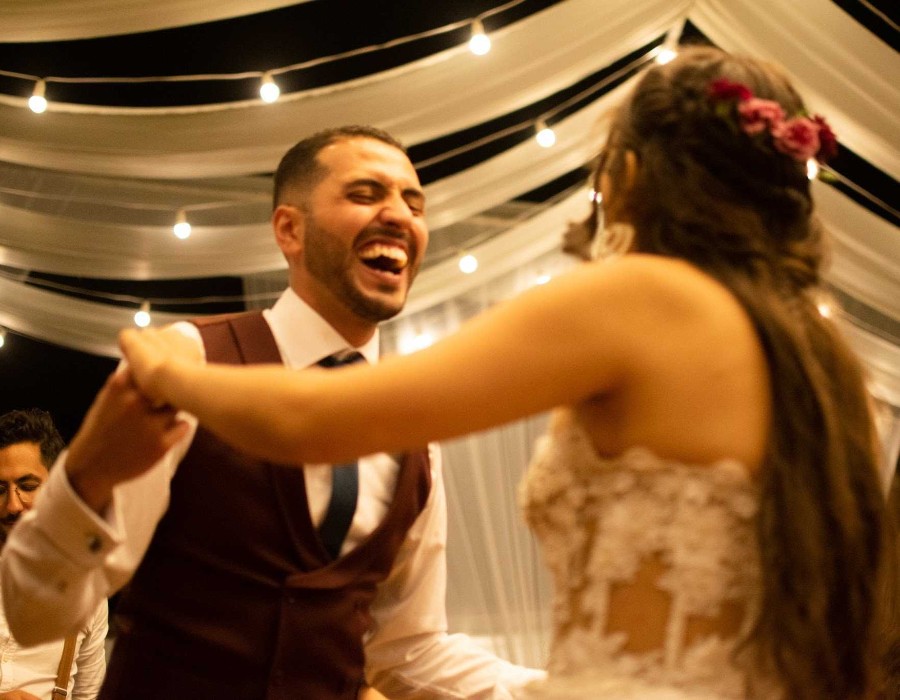 "I remember well the day we first realized we wanted to get married," Oriana wrote in an email. "We were eating at a vegetarian restaurant on the day of my birthday. I was living in Peru, and I went to visit him in Colombia. And during the whole trip, the feeling that we were doing the right thing felt so powerful, as if God was telling me: 'This is the way! Keep going!' We fell in love not only with each other, but also with the spiritual life and service we could have together, our ideals, life purposes, and our love for our Faith."
And Abdu'l-Baha wrote that when Baha'is "undertake to marry, the union must be a true relationship, a spiritual coming together as well as a physical one, so that throughout every phase of life, and in all the worlds of God, their union will endure; for this real oneness is a gleaming out of the love of God."
"It felt very evident at that point, besides feeling in love, there was a strong spiritual feeling that we were going down the right path," Oriana added.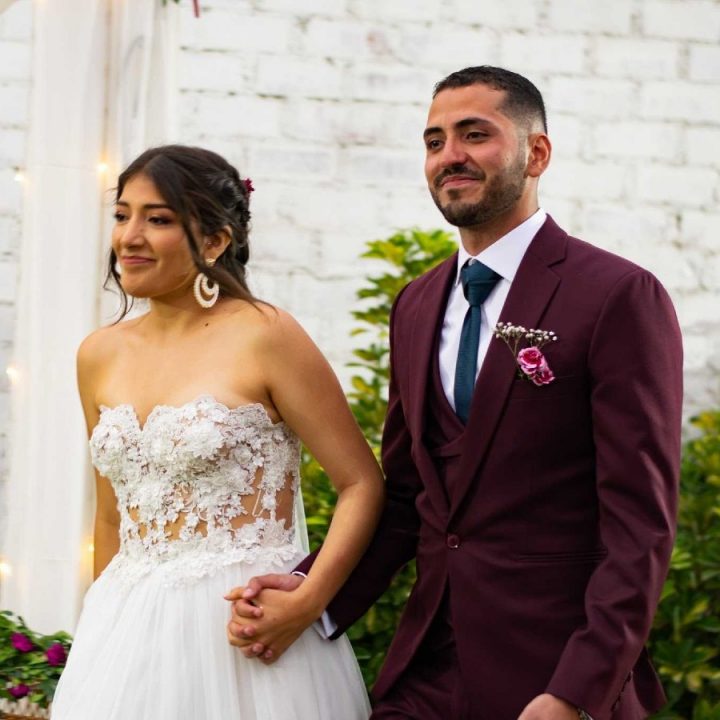 Oriana and Nabil, who live in Bogotá, Colombia, recently celebrated their first wedding anniversary. "I felt I could talk to him about my spiritual aspirations and ideals, about life and what I wanted from it, about me and life, and he understood completely," wrote Oriana.
RELATED: How Quarantining Is Helping Newlyweds Discover Their Dynamic
Love and Service: Anisa and John Everett
Grand Rapids, Michigan resident Anisa Everett, 24, first met her husband, John, 29, in 2013 at a community service conference for young adults in the Midwest. "John was one of the facilitators at the conference, and I immediately took notice of him," Anisa wrote in an email. "He radiated the most pure-hearted joy. When he was in a room, he had a way of making everyone feel like they belonged; he even treated people he was meeting for the first time as though they were his most cherished friends."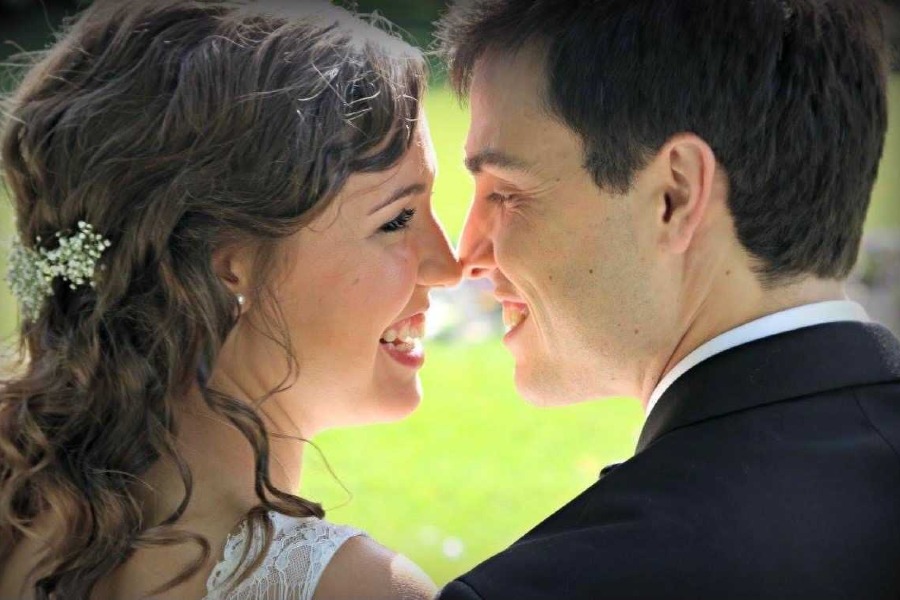 Anisa explained that they "weren't always in the same group, so I did not have many chances to interact with him." However, during a meal with about 10 other people, John showed such sincere compassion for another attendee who was upset that it made an impression on Anisa.
"Later that day," Anisa wrote, "I remember thinking to myself that if there was someone I would marry without hesitating it would be him, not just because of his overwhelming spirit of joy, but also because of his sincere compassion for those around him, and his courage to do what was right in moments of difficulty."
After the conference, Anisa moved to Israel to volunteer at the Baha'i World Center in Haifa, Israel and didn't see John for another two years.
But, Anisa wrote, "Within weeks of my return from Israel, I found myself serendipitously crossing paths with John. Over the course of about a month, without knowing each other's plans, John and I had consecutive encounters at three different gatherings in Ohio, Illinois, and Michigan — all of which centered on the theme of how young people can contribute to creating compassionate, inclusive, and just communities. Each of these encounters provided the opportunity to pray, study, and create plans together for how we would serve our communities."
RELATED: Love and Service: A Match Made in Heaven
Anisa explained that they were "inspired by the truth that 'the betterment of the world can be accomplished' simply by performing 'pure and goodly deeds,'" As a result, they "each felt called to try to make a difference in other people's lives, and were drawn to each other because of that shared vision."
By the third time they met in-person, Anisa wrote, "I knew that John belonged in my life, and that he was the person with whom I wanted to walk a path of service for the rest of my life." They'd talked about "a range of topics — from education, to the family unit, to career — but we had never expressed 'interest' in each other, beyond our mutual understanding of our profound respect for each other and desire to work together in service."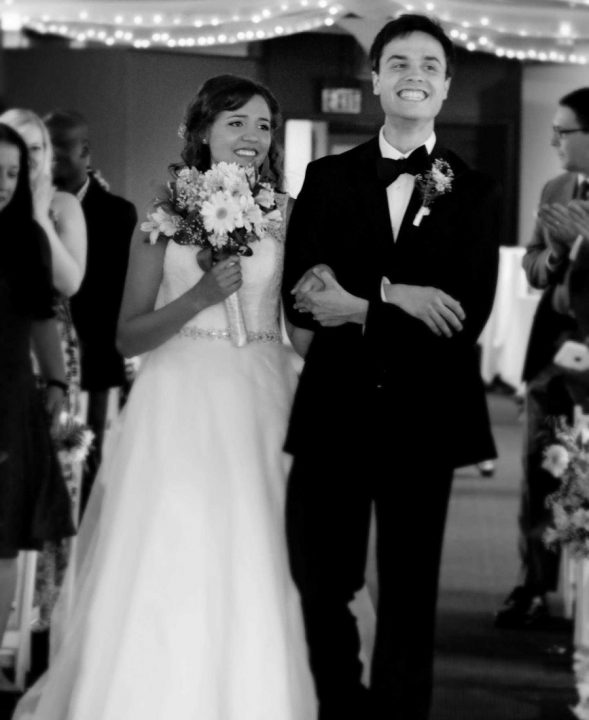 The Baha'i writings say, "Surely, all must today be called to love, to unity and to kindness; to integrity, to friendship, to fellowship and to divine worship. I hope that thou and thy dear husband may continue to serve in all spirit and fragrance and that in this world ye may remain two radiant candles and from the eternal horizon ye may glisten like unto two shining stars."
During that third gathering, they decided to meet up to say prayers at sunrise. "After sharing our prayers, we decided that we wanted to consider getting married," Anisa wrote. "Over the next several weeks, we spent a significant amount of time with each other's families and in our respective communities, and each passing experience only served to confirm our understanding that we should get married."
This summer will mark Anisa and John's fifth anniversary.
So, whether you realize days, weeks, months, or even years after meeting them that you've found your soulmate, there seems to be a common thread between these stories: an undeniable knowledge that the spiritual bond you have with someone is one that will last for eternity.
You May Also Like