The views expressed in our content reflect individual perspectives and do not represent the official views of the Baha'i Faith.
We are all figuring out how to foster unity in our families, and with daily practice, devotion, and plenty of lessons along the way, we learn to walk and ultimately run. The journey of getting there is just as important as reaching that finish line.
When we live in our inherent nobility, we can see that nobility in our loved ones, even when tested with conflicts. Another element to this is recognizing our pain and suffering and the veils that impede us from acknowledging that we have significant work to do. This requires us to be humble, meek, and reflective of our own personal work — therefore understanding our loved ones' pain and suffering.
Remember, "hurt people, hurt people." It's not a cliché. We can all attest to this. When we recognize the profound suffering that exists, we develop deep listening, compassion, and empathy and therefore free ourselves of judgment towards our loved ones.
What does this look like in practice? Here are three steps we take to create and maintain unity within our homes and families:
1. Be Generous in Language
Being around people who show us through their words how much they love us fills us up with love, kindness, and abundant happiness. People who speak with kindness, graciousness, and eloquence and have engaging natures fill us with happiness and connectedness. Even over Zoom, they illuminate the screen with joy. As Baha'u'llah, the prophet and founder of the Baha'i Faith, put it: "A kindly tongue is the lodestone of the hearts of men. It is the bread of the spirit, it clotheth the words with meaning, it is the fountain of the light of wisdom and understanding."
The language that the central figures of the Baha'i Faith use is melodious and gladdening to the heart and mind. Along with the wisdom, guidance, and power innate in God's words, they prompt enlightened thinking. They allow for generous language. When we pray and meditate on the sacred words of Baha'u'llah, our hearts become united with God's love, and they have the power to transform our words and actions into love and kindness. Generous and gracious language feels good and allows us to shower love and encouragement, even with correction, in a manner that shows reverence for the nobility of our loved ones.
2. Be Patient and Full of Forbearance
Recognizing our loved ones' nobility and extending generous words to them gives us the patience to walk alongside our loved ones as they navigate their own journey. — especially during times of tests and difficulties. In a family, tests and difficulties can take the form of a simple disagreement or a miscommunication that spirals out. Baha'u'llah wrote: "O Son of Man! For everything there is a sign. The sign of love is fortitude under My decree and patience under My trials."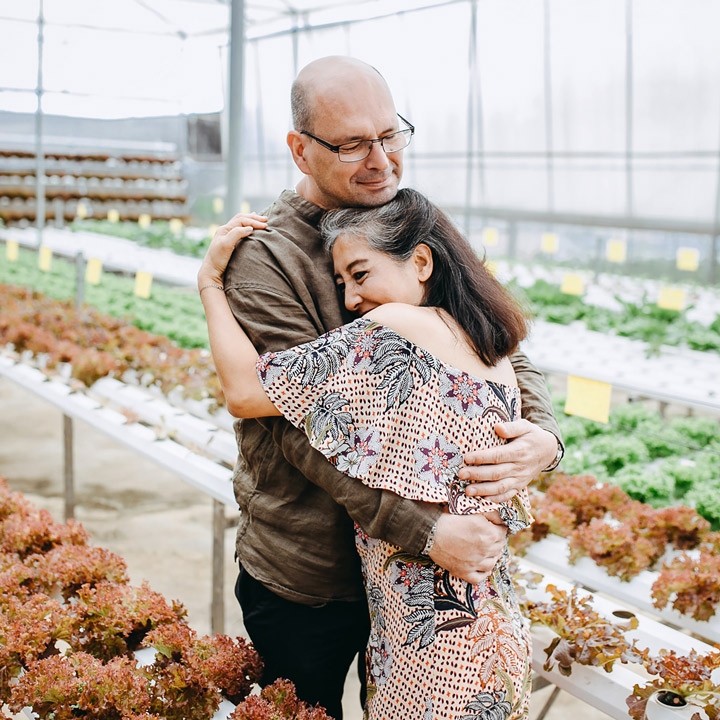 Keeping ourselves grounded in the practices of prayer, meditation, and self-reflection allows us to recognize — or even foresee — a potential derailment. This is how we can exemplify the pillar of strength and be that anchor of forbearance with our loved one — with the understanding that a test or trial is there to perfect us on our spiritual path, and the recognition that our loved one has their own path of perfection and growth. The key: that our loved one still feels connected, safe, and that they belong. The home remains a sanctuary.
3. Be Courteous
We can each make our homes a sanctuary — a place of refuge and safety. We create the atmosphere and energy inside. We can bless and establish our homes as sacred spaces by worshiping God in them through the recitation of sacred writings, singing, preparing healthy food or decor, and showering our loved ones with glorious words. In so doing, we exude courtesy to our families.
Abdu'l-Baha, the son of Baha'u'llah and his designated successor, wrote, "I pray God to make thy home a center for the radiation of light and the glowing of His love in the hearts of His people. Know that in every home when God is praised and prayed to, and His Kingdom proclaimed, that home is a garden of God and a paradise of His happiness."
To that end, courtesy begets deference, which begets reverence, and reverence fosters kinship and friendship in the family. Exhibiting courtesy, along with humility, may be one of the most important actions we take. As Baha'u'llah declared:
O people of God! I admonish you to observe courtesy, for above all else it is the prince of virtues. Well is it with him who is illumined with the light of courtesy and is attired with the vesture of uprightness. Whoso is endued with courtesy hath indeed attained a sublime station. It is hoped that this Wronged One and everyone else may be enabled to acquire it, hold fast unto it, observe it, and fix our gaze upon it. This is a binding command which hath streamed forth from the Pen of the Most Great Name.
Without courtesy, what would our world look like? Civilization was formed based on intentional decisions to maintain peace and conjoin through collaboration, rather than to wage war and destroy. Our homes, our families, are micro civilizations. What we do within our families bubbles out into the rest of the world. In a talk in Paris in 1911, Abdu'l-Baha explained:
When you love a member of your family or a compatriot, let it be with a ray of the Infinite Love! Let it be in God, and for God! Wherever you find the attributes of God love that person, whether he be of your family or of another. Shed the light of a boundless love on every human being whom you meet, whether of your country, your race, your political party, or of any other nation, colour or shade of political opinion. Heaven will support you while you work in this in-gathering of the scattered peoples of the world beneath the shadow of the almighty tent of unity.
The Baha'i teachings say that the family constitutes a workshop where we can practice and refine the virtues of a spiritual life. In a talk in Boston in 1912, Abdu'l-Baha said that "If love and agreement are manifest in a single family, that family will advance, become illumined and spiritual." During a talk in New York City that same year, he also said that "All the virtues must be taught the family. The integrity of the family bond must be constantly considered, and the rights of the individual members must not be transgressed."
We can achieve family unity when parents and children mutually devote their love and their energies to serving God and each other. In these conditions, family unity leads to the progress and development of the individuals within the family. When we practice the virtue of being patient and being grateful with ourselves and with our family members, we remember: We are created in God's likeness.
You May Also Like