The views expressed in our content reflect individual perspectives and do not represent the official views of the Baha'i Faith.
To me, one of the most profound statements from the prophet and founder of the Baha'i Faith, Baha'u'llah, is: "Noble I made thee, wherewith dost thou abase thyself?"
Enshrined in this statement we find both a great station and the concept of free will. Baha'u'llah writes that nobility is not reserved for only the rich or learned — it is an inherent quality of every human being. This nobility is spiritual — not material — in nature, and a station we can either reject or strive to attain.
Today's challenges call for spiritual nobility from all of us: the ability to transcend selfish desires, dedicate ourselves to serving the common good, and put our prejudices behind us so that humanity may finally come together in unity.
RELATED: The Virtues Basket: How Do We Embrace Unity?
Acknowledging the oneness of humanity is about unity, harmony, peace, justice, equality, and so on — and as we strive towards this goal, it can be helpful to recognize the gems among us. We all face challenges in life, but some people rise above the ordinary to overcome them. They are inspirations to us all.
One such person is Terry Fox, who, through his example, gives us encouragement to discover the nobility enshrined in all of us.
On April 12th, 1980, Terry Fox, a Canadian suffering from bone cancer, embarked upon a unique challenge: he began his "Marathon of Hope" by dipping his artificial foot into the Atlantic Ocean. With one strong leg and one prosthetic limb limping along the way, he aimed to cross the vast continent of North America from coast to coast to raise twenty-four million dollars.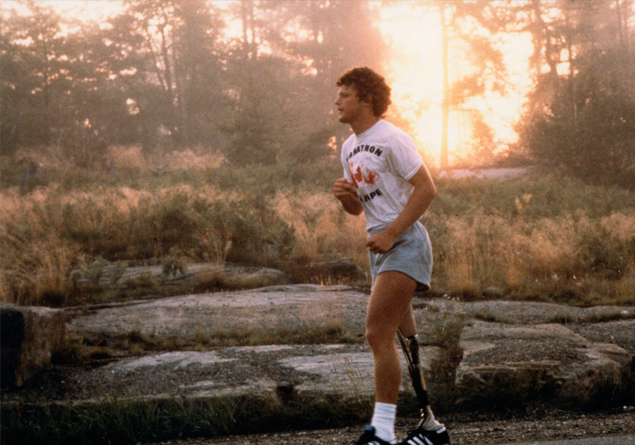 On average, Terry walked about forty-eight kilometers a day. His brother, who accompanied him, was astounded by his determination. Terry was in constant pain, yet he kept moving forward, propelled by his spirit of hope and faith in finding a cure for cancer.
When asked why he wanted to raise money for research, Terry said, "There were feelings of hopeful denial, and the feelings of despair. My quest would not be a selfish one. I could not leave knowing these faces and feelings would still exist, even though I would be set free from mine. Somewhere the hurting must stop … and I was determined to take myself to the limit for this cause."
After 3,339 miles, halfway through his journey, the cancer spread to his lungs, cutting short his life and his goal. His spirit, however, stayed forever. People have commemorated Terry's heroic perseverance through numerous awards, research grants, and an annual fund-raising run held in sixty countries in his name. His short life, filled with sacrifice, courage, and a positive attitude, was an inspiration to millions. With love for others and faith in himself, he started a journey of hope.
Abdu'l-Baha, the son of Baha'u'llah and his designated successor, wrote:
Be patient in the time of affliction and trial, endure every difficulty and hardship with a dilated heart, attracted spirit and eloquent tongue in remembrance of the Merciful. Verily this is the life of satisfaction, the spiritual existence, heavenly repose, divine benediction and the celestial table!
In September 2013, Dr. Jay Wunder, a sarcoma specialist at Mount Sinai Hospital, Toronto, noted that survival rates for osteosarcoma have increased dramatically since Fox's death. He said that most patients "get limb-sparing or limb-reconstructive surgery. Now the cure rate's almost up to 80 percent in younger patients. In older patients it's more like 70 percent … So that's a pretty big turnaround in a couple of decades." These advances in treatment might be partly attributable to funds raised by the Terry Fox Foundation. As of January 2018, over $750 million had been raised in his name.
RELATED: Does Personal Growth Require Suffering?
Terry Fox is a great example of how, when moved by the spirit, even physical pain and suffering cannot prevent us from extraordinary achievement. His actions spoke louder than his words. Terry Fox recreated himself, transforming a man with a fatal disease into a vision of hope for others.
Given the pandemic the world currently faces, this nobility put into action feels particularly apt and necessary. The thought that "no one is safe until everyone is vaccinated" reverberates in minds and hearts — and we are beginning to realize that the same stands for the many other dangers we face, such as war, hunger, and racial injustice. May we all work as hard as Terry Fox did to attain our inherent spiritual nobility as we strive to build a better world.
You May Also Like