The views expressed in our content reflect individual perspectives and do not represent the official views of the Baha'i Faith.
With this recent increase in uprisings for racial justice, hundreds of infographics and Instagrammable explanations of critical lessons that pertain to anti-racist work have appeared on the internet.
These social media posts serve to educate us about racism and how to bring about racial justice and unity. Education is key in the process of bridging each of our unique qualities with a process that will lead to change. The Baha'i writings emphasize education as essential to bringing out each of our strongest qualities. Baha'u'llah, the prophet and founder of the Baha'i Faith wrote: "Regard man as a mine rich in gems of inestimable value. Education can, alone, cause it to reveal its treasures, and enable mankind to benefit therefrom."
Education includes not only the formal schooling that many of us associate with the word, but also the lessons we learn from everyone from our grandmothers to our friends, the articles and podcasts we consider carefully, and the observations we make about the world around us.
Despite the very large and complex nature of anti-racism work, many of the posts I have seen have been powerful and useful. One of the posts I found to be a helpful graphic in ensuring that everyone understand what "the work" actually looks like was created by racial justice advocate Deepa Iyer: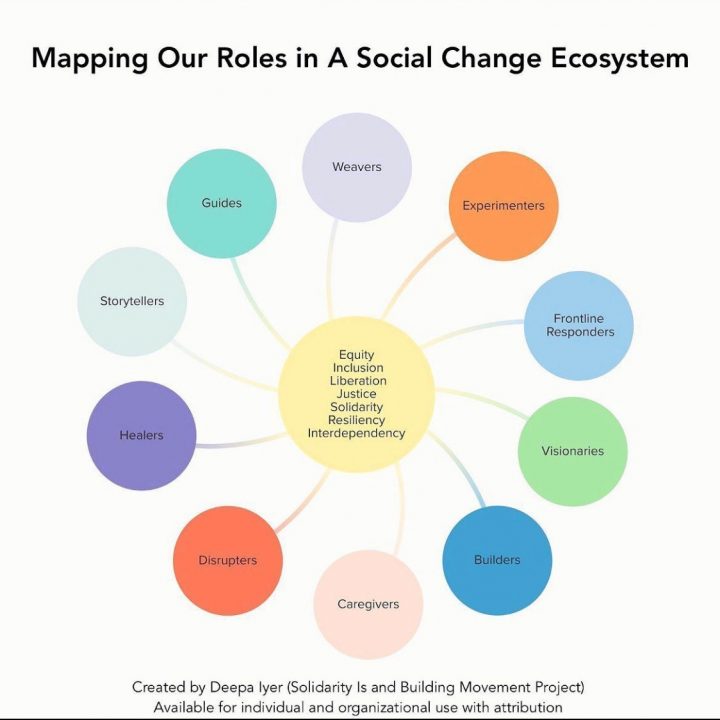 ---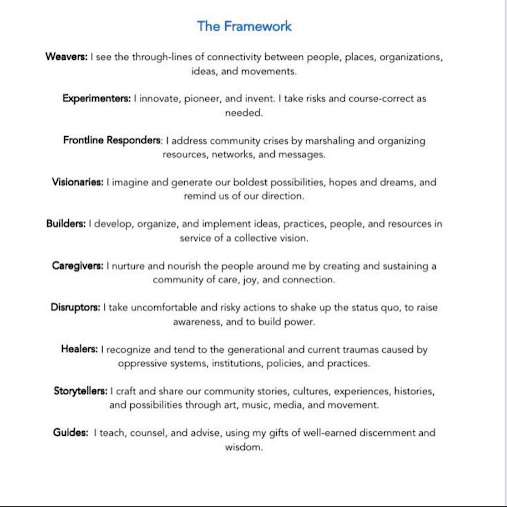 It suggests that there are a variety of roles that a person can take in contributing to the betterment of the world around them. While this list obviously doesn't account for every single needed role for social change — and it certainly is a simplified explanation considering how complex each person is — this idea is founded on the idea of unity in diversity. While we all may have different strengths to contribute, we can all work towards a similar form of social change while using our unique talents and tendencies.
Central to the Baha'i Faith is the goal of establishing unity in diversity and deepening our understanding as a collective. Shoghi Effendi, the Guardian of the Baha'i Faith wrote, "… a world organically unified in all the essential aspects of its life, its political machinery, its spiritual aspiration, its trade and finance, its script and language, and yet infinite in the diversity of the national characteristics of its federated units."
It's clear that the word of the time is "action."
Indeed, in a speech he gave in Paris in 1911, Abdu'l-Baha said, "Some men and women glory in their exalted thoughts, but if these thoughts never reach the plane of action they remain useless: the power of thought is dependent on its manifestation in deeds."
Many Black folks in the United States feel frustrated when we hear non-Black friends saying privately that they agree with our equality and that they hope for our justice. But we don't always see those same people publicly taking action to stop the very palpable injustices we face due to racism.
This most recent wave of uprisings came with an outcry on social media for individuals, companies, and organizations to put their money where their mouth is and demonstrate their willingness to work tirelessly for the liberation of Black people. With such a large — and, unfortunately, neglected — issue, it is no surprise that many of those being called to do more did not know where to begin. In the case where folks did know, whether it be re-posting information on social media, donating funds, or having a conversation with a prejudiced family member, people only knew exactly that: where to begin. The next steps — those steps that would be ongoing — might be unclear to folks engaging in work against racism for the first time.
The risk is that when some people realize that there are different roles we can each play while working for social change, they might let themselves get comfortable. They might relax into a general complacency with a few moments of "woke" statements peppered into their language or social media feeds. But achieving racial justice requires more from people than silently liking a post here and there or discussing how upset they are with the existence of inequality among their friends who already largely agree with them.
In order to accept that there are, in fact, different roles each of us will be most effective in without submitting to not having much of a real impact it requires that we think creatively. Baha'u'llah wrote that "It is incumbent upon every man of insight and understanding to strive to translate that which hath been written into reality and action."
Once we become aware of racism, we should strive to use our insight — our creativity — to figure out how to take action. Our strengths can be used to effect change, and we can keep educating ourselves and being self-aware. If we do this, we can come together towards a unified, genuine, action-oriented vision for social change.
You May Also Like