The views expressed in our content reflect individual perspectives and do not represent the official views of the Baha'i Faith.
The title Baha'u'llah means "the Glory of God" – and in the Book of Revelation, Jesus foretold the coming of the "Glory of God":
And the city had no need of the sun, neither of the moon, to shine in it: for the glory of God did lighten it, and the Lamb is the light thereof. – Revelation 21:23 (emphasis added).
Now what – or who – is the "Glory of God"? Good question. But, first, why is this verse important, especially for Baha'is?
This prophecy from the Book of Revelation seems strikingly similar to Jesus' prophecies in the Gospels:
For the Son of man shall come in the glory of his Father with his angels; and then he shall reward every man according to his works. – Matthew 16:27 (emphasis added).
Whosoever therefore shall be ashamed of me and of my words in this adulterous and sinful generation; of him also shall the Son of man be ashamed, when he cometh in the glory of his Father with the holy angels. – Mark 8:38 (emphasis added).
For whosoever shall be ashamed of me and of my words, of him shall the Son of man be ashamed, when he shall come in his own glory, and in his Father's, and of the holy angels. – Luke 9:26 (emphasis added).
Clearly, Jesus and his disciples described his second coming as the "glory of God" and also as the "glory of his Father." Both appear to be equivalent terms.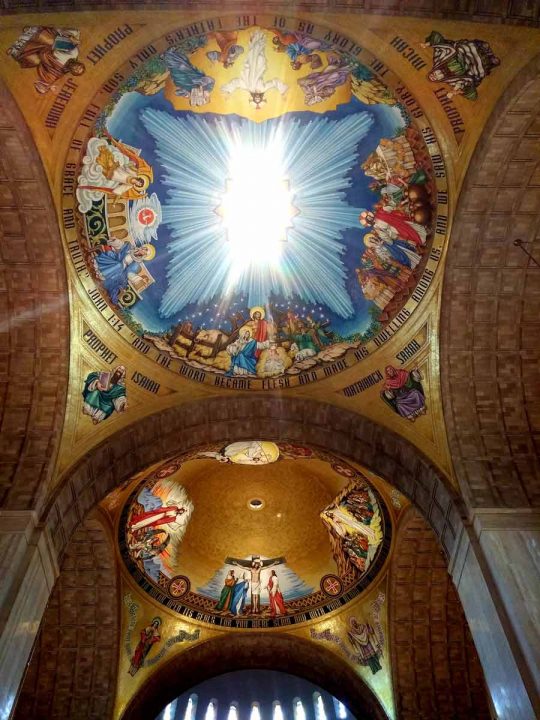 Remember, though, that the Book of Revelation was written by John of Patmos, who said that the content came from Jesus, according to the opening verse:
The Revelation of Jesus Christ, which God gave unto him, to shew unto his servants things which must shortly come to pass; and he sent and signified it by his angel unto his servant John. – Revelation 1:1.
The key verse in that book of the Bible, Revelation 21:23, has added importance for Baha'is, especially because Baha'u'llah quoted it directly in one of his tablets, as seen in the following provisional translation from a Tablet to Ḥájí Ilyáhú Cohen (the first among the Jews of Kashan, Iran, to embrace the Baha'i Faith), in which Baha'u'llah proclaims:
This day the City of God hath appeared and can be witnessed in perfect adornment. This is the City in which the God of all peoples hath appeared. Ponder these words of John, who announced the great and sacred City and said: "And I saw no temple in it; for the Lord God Almighty and the Lamb are the temple of it. And the city had no need of the sun, neither of the moon, to shine in it; for the glory of God did lighten it, and the Lamb is the light of it." – Baha'u'llah, citing Revelation 21:22–23, provisional translation by Nahzy Abadi Buck and Christopher Buck, quoted in "The Eschatology of Globalization: Baha'u'llah's Multiple-Messiahship Revisited," Studies in Modern Religions, Religious Movements and the Babi-Baha'i Faiths, p. 150.
This makes Revelation 21:23 part and parcel of Baha'i scripture. It's also clear that Baha'u'llah wanted to draw attention to this key verse as a "proof-text" (as scholars say) of Baha'u'llah's own mission. Why? Because Jesus – whether specifically or symbolically or even coincidentally – foretells the advent of Baha'u'llah by name. The Baha'i scholar Stephen Lambden explains:
The Arabic word bahā' is, however, found at certain points in Arabic versions of the New Testament and in other Arabic writings. A good example occurs in Revelation 21:23 where John of Patmos predicts, "And I saw no temple in the city, for its temple is the Lord God the Almighty and the Lamb. And the city has no need of sun or moon to shine upon it, for the glory of God (= Bahā'-Allāh) is its light, and its lamp is the Lamb."
In one of his Tablets to a Jewish Baha'i, Bahā'-Allāh [Baha'u'llah] cites this verse in Arabic exactly as it was printed in the London 1858 (1671) edition of the William Watts Arabic Bible for the Eastern Churches. – Stephen Lambden, "The Greek doxa in the New Testament and theophanic-messianic splendour in Christian Literatures"
Who was this "Jewish Baha'i," and how do we know about him? He was Ḥájí Ilyáhú Cohen, also known as Abdu'l-Ḥusayn. There are several references to Cohen in Mousa Amanat's seminal work on the Bahá'ís of Káshán: Mousa Amanat, Bahá'íyán-i-Káshán, edited by Noura Amanat-Samimi. For instance:
Mousa Amanat identifies Ḥájí Ilyáhú Cohen as one of the Jews who embraced the Faith during the time of Baha'u'llah, when such Baha'is as Ḥájí Mírzá Ḥaydar-ʻAlí and Mírzá Abu'l-Faḍl visited Káshán to promote the Faith there. – p. 39.
Amanat notes that Baha'u'llah gave Cohen the title of Abdu'l-Ḥusayn. – Ibid.
Amanat describes Cohen as "one of the first to embrace the Cause in Káshán, where he would return from time to time. He was also active in other regions and cities, such as Ṭihrán." – p. 42, translation by Adib Masumian.
Amanat remarks that his father, Murad Amanat, characterized Cohen—whom he knew personally—as a an open-minded rabbi who believed in the text of the Old Testament and in the scriptures of the prophets, and deplored the personal commentaries with which rabbis would typically conclude their discourses after reciting passages from the Old Testament.
According to Mousa Amanat, Cohen could sense that the young Murad Amanat was similarly open-minded, and thus developed a habit of making all sorts of progressive remarks to him. This started with Cohen's expression of his dissatisfaction with the aforementioned practice of the rabbis, which then evolved into a disavowal of those aspects of Judaism that were not part of the Old Testament. By this point, Murad had distanced himself from the Jewish clerics.
Realizing this, Cohen intimated to Murad his acceptance of Jesus Christ, and later his acceptance of Muhammad—a confession which prompted Murad to conduct his own research. Mousa Amanat notes that, right around that time, Murad went on a business trip to Hamadán, where he came into contact with some Baha'is of Jewish background, and came to embrace the Faith after some extensive conversations with those Baha'is. – p. 204.
Amanat has written a brief biographical account of Cohen on pp. 288–290. This includes an excerpt from a different account of Cohen, written by a certain Mírzá Rayḥán-i-Rayḥání, and the text of a Persian tablet revealed to him by Baha'u'llah.
In another tablet, found by Adib Masumian and addressed to a person named Abu'l-Hasan, Baha'u'llah cites Revelation 21:23 as a proof-text in a similar vein. (Iranian National Baha'i Archives volumes, 105-volume private printing, Volume 28, pp. 447–463). The copyist's signature added at the end (the "colophon") of this tablet indicates that it was transcribed by Mírzá Áqá Ján Khádim, Baha'u'llah's secretary.
So there you have it! In Revelation 21:23, Jesus foretold the "Glory of God," which Baha'u'llah cites as one proof of his prophetic mission, in at least two separate passages – in his tablet to Ḥájí Ilyáhú Cohen, and in his tablet to Abu'l-Ḥasan.
Note: For a provisional translation of Baha'u'llah's entire Tablet to Ḥájí Ilyáhú Cohen, see pp. 34–35 of: Táj-i-Vahháj: Crown of Glory. Memoirs of Jináb-i-Azíz'u'lláh Azízí. Translated from the original Persian by Nahzy Abadi Buck & Christopher Buck. (First published New York, 1988.) English translation edited by Hamid & Sandra Azizi. North Vancouver, B.C., 1991. [Privately published. Peer-reviewed by editors.] Published online (May 2, 2016): http://bahai-library.com/azizi_crown_glory. See also "Tablet to the Jews," Section #47 of Baha'i Scriptures, pp. 116–117, http://bahai-library.com/compilations/bahai.scriptures/2.html#TabletJews. (Courtesy of cosmologist and data scientist, Steven Phelps, May 23, 2020.)

You May Also Like