The views expressed in our content reflect individual perspectives and do not represent the official views of the Baha'i Faith.
Connection, inspiration, and positivity — we need these on a day-to-day basis. And at a time when the coronavirus (COVID-19) has caused such suffering around the globe, it's become clear that we need them more than ever. Due to quarantines and stay-at-home orders, we can't come together physically, but there's still a way we can support each other: by creating a chain of continuous prayer.
RELATED: Why I Believe in the Healing Power of Prayer
To make this possible, on Friday, April 3, One Planet, launched LightUpTheWorld.org, an online space for people — whether they're religious, religiously unaffiliated, or nonreligious — to offer prayers and positive reflections focused on the health of our human family.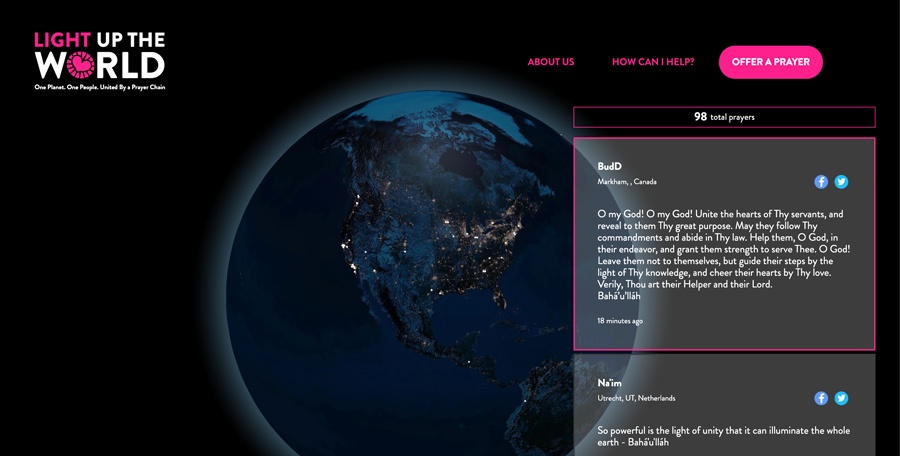 "We are one humanity and we collectively are experiencing suffering, loss, and uncertainty," says Payam Zamani, the CEO of One Planet and the editor-in-chief of BahaiTeachings.org.
"It's wonderful to know that you're not alone. Someone else out there is saying a prayer right now, for your well-being, for our collective well-being"
Indeed, we're living in unprecedented times. Schools are shut, millions of people have lost their jobs, and hospitals are facing a shortage of personnel and the supplies needed to heal those afflicted with COVID-19. When faced with such circumstances, Baha'is, like many people do, turn to prayer in order to find solace, stay optimistic about the future, and find deeper purpose and meaning in our lives.
"As a follower of the Baha'i Faith, I believe that prayer is a powerful spiritual force," Zamani says. To that end, LightUpTheWorld.org "is a vehicle for us all to come together, to actually experience someone from around the world saying a prayer or offering a positive reflection. It's wonderful to know that you're not alone. Someone else out there is saying a prayer right now, for your well-being, for our collective well-being."
In a talk given more than a century ago, Abdu'l-Baha, the son of Baha'u'llah, the Prophet-Founder of the Baha'i Faith said that "All the sorrow and the grief that exist come from the world of matter — the spiritual world bestows only the joy!" Prayer is what connects us to that spiritual world.
Offering prayers on LightUpTheWorld.org is quick and easy to do.
Step One: When you go to the site, type in your name, then verify or add your location.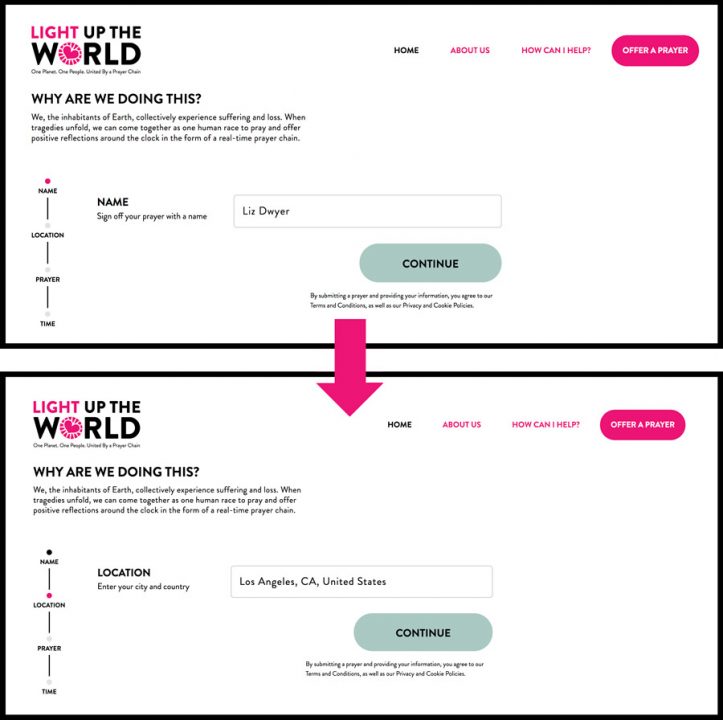 Step Two: Type (or cut and paste) the prayer or positive message you'd like to share — you can also share a YouTube link to an inspirational video or musical selection.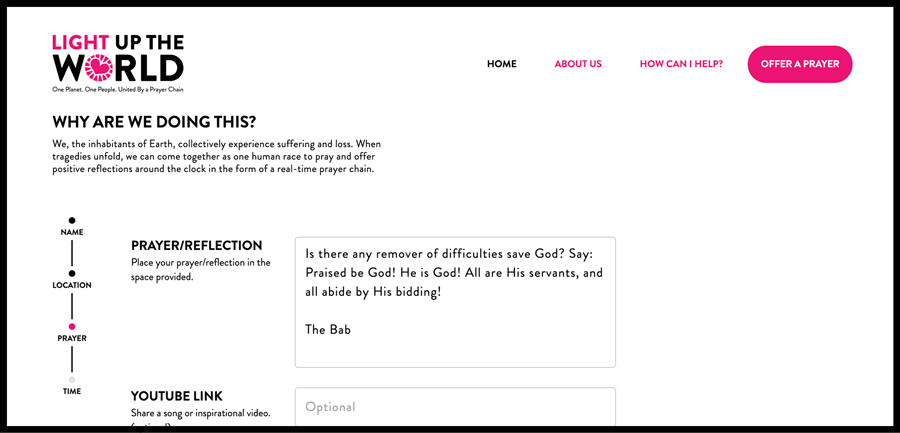 Step Three: Select a time — either the next available one or scheduled in the future — to offer your prayer, positive message, inspirational video or music.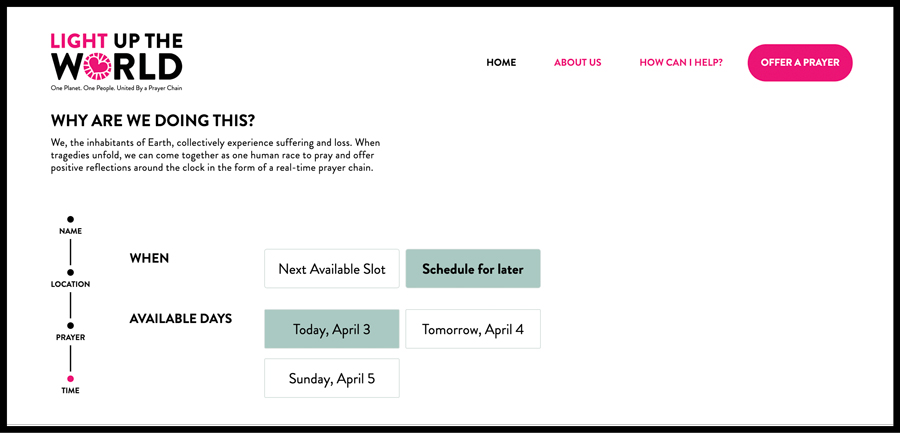 If you'd like a reminder of the time you chose to say your prayer, you can also enter your email to get one sent to you.
When your selected time comes around, say your prayer or meditation out loud. At the same time, a light corresponding to your location will appear on the globe on the LightUpTheWorld.org home page. Your name — and the prayer or meditation you offered — will also be visible, enabling people around the world to say it with you.
Few, if any, events in modern history have made humanity feel so connected and appreciative of its oneness. And through prayer, we can stay united and support each other as one human family. "The purpose of it is very simple, it's just to show love," Zamani says.
You May Also Like