The views expressed in our content reflect individual perspectives and do not represent the official views of the Baha'i Faith.
Throughout 2020, my nonprofit, Organic Oneness, worked with several like-minded organizations that focus on racial and environmental justice. The work we've done together is an example of community-oriented project planning, and has left me feeling energized.
This year has been a rollercoaster of extreme emotions, but I do my best to look at the bright side of things and stay positive — especially when I'm with others. The resulting feeling of happiness becomes contagious and spreads to others with little effort. I witness this time and time again when co-creating community building activities that give people the opportunity to come together and build networks and friendships.
Producing an event for people to deepen their understanding of justice feels like birthing new energy into the world that brings us closer to a peaceful society.
The Baha'i Faith says that serving together is like prayer and worship. In a talk he gave in London in December 1912, Abdu'l-Baha, the son of Baha'u'llah, the prophet and founder of the Baha'i Faith and his designated successor said "all effort and exertion put forth by man from the fullness of his heart is worship, if it is prompted by the highest motives and the will to do service to humanity. This is worship: to serve mankind and to minister to the needs of the people. Service is prayer."
The last major event Organic Oneness hosted before the chilling winds of winter blew over Chicago was held on the city's Westside. Bikes, Birds & Environmental Justice (BBEJ) linked two neighborhoods together: predominantly Black North Lawndale and predominantly Brown Little Village. The goal of this event was to build solidarity between Black and Brown communities, bring awareness to the intersectionality of environmentalism, and advocate for environmental justice.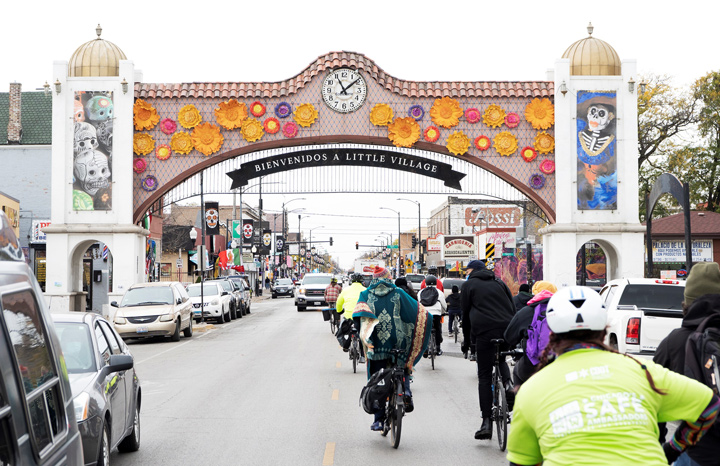 RELATED: Reshaping the Language of Race
We started as three partners with no budget — just an idea. Within two months of brainstorming and planning, the effort grew into 19 partners and multiple sources of funding coming in. Organic Oneness, Equiticity, and Environmentalists of Color were the lead organizations. We welcomed everyone that wanted to join the efforts in any way they could. As a result, over 100 environmentalists, healers, and justice activists joined the event, which was featured in various media outlets, including a local alternative newspaper, the South Side Weekly.
Through inspirational speeches from each lead partner, BBEJ covered the power of mobility in organizing around racial justice, environmental, and climate justice. A bike ride followed the exploration of healing in Chicago's neighborhoods through parks, community gardens, and at an environmental justice site. The event left everyone with a warm heart, a more extensive network of friends, and action steps on how to help, and I walked away with an enormous amount of love that grew between the core partners during the process of planning and acting in service together.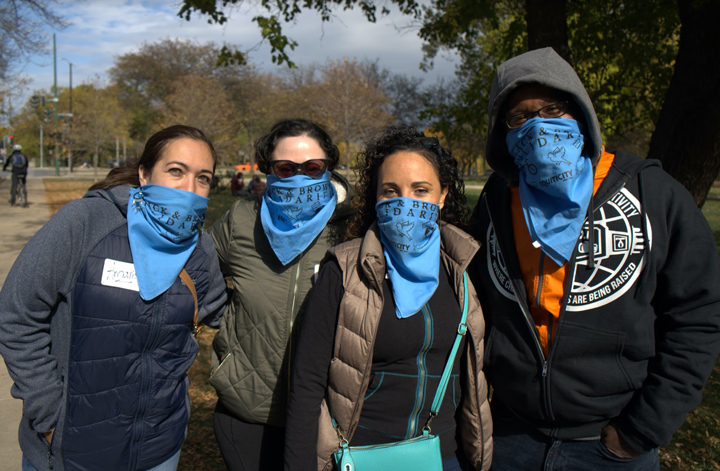 On the surface, people might say we just planned an event, but in reality, we were connecting spiritually and infusing Chicago with the power of love. It reminds me of what Abdu'l-Baha said during another talk he gave in London, this time in January 1913. He explained that "In the world of existence there is indeed no greater power than the power of love. When the heart of man is aglow with the flame of love, he is ready to sacrifice all — even his life."
During our debrief meetings, our organizations continually thanked each other for the opportunity and showered one another with praise and gratitude. We all agreed that the process was unique and not commonly felt, so we began to investigate what made this process different from other projects, from our workplaces, or other committees. We identified that we all enjoyed being with each other, and that meeting wasn't a burden. We actually looked forward to our time together and felt energized. It was a safe space to be ourselves and feel seen and heard. We brought laughter and joy to each other.
It's no wonder then that Abdu'l-Baha said in a speech that "Joy gives us wings! In times of joy our strength is more vital, our intellect keener, and our understanding less clouded. We seem better able to cope with the world and to find our sphere of usefulness."
We all shared that we were seasoned practitioners who have done racial equity and healing work to unpack internalized oppression and dismantle Eurocentric behaviors and mindsets, such as dichotomy, competition, being time-bound, perfectionism, etc. We learned to love ourselves, and we were on a quest to understand our true purpose in life in a way that uplifts our cultural roots. Once those barriers are removed, we can be our authentic selves and be community partners who can have a safe, transparent space for expression and planning.
Contrary to the typical way of project planning, we started talking about the communities and how we've been impacted by racism. We talked about what we wanted for our communities and how we can bring awareness to environmental injustices. We expressed what we wanted people to feel and built solidarity. After getting to know each other's stories and building a friendship, we began the tactical planning — identifying our assets, figuring out the event's location, putting together a budget, etc.
RELATED: Acknowledging Injustice Is the First Step Towards Mental Health
Because we established a relationship with each other and became friends, we naturally incorporated this core set of five interests that everyone yearns for:
Autonomy: The desire to make your own choices and control your own fate.
Appreciation: The desire to be recognized and valued.
Affiliation: The desire to belong as an accepted member of the group.
Role: The desire to have a meaningful purpose.
Status: The desire to feel fairly seen and acknowledged.
According to the book "Getting to Yes: Negotiating Agreement Without Giving In" by William Ury and Roger Fisher, when collaborating with others, trampling on any of these interests can create strong negative emotions. Attending to them can build trust and a positive climate for creating and problem-solving together. Our adherence to these five interests among ourselves — without it even being said — was felt by everyone that entered our space, and they became the foundation for our event.
We each yearned to be on this journey with others, so we were eager to have a culture of care when gathering for our meetings. This allowed for true consultation to occur, with each of us listening intently, including everyone's ideas, attaining higher goals together, and trusting that each of us was a valuable contributor to the project. Through this noble recognition of each other, the elements of respect and love spilled over from our core group to everyone that joined our weekly calls. It eventually expanded into the event where approximately 100 people felt the elements of truth, justice, love, and unity.
RELATED: Bringing Spiritual Qualities Into the Workplace
Indeed, I take to heart these words of Baha'u'llah: "Say: no man can attain his true station except through his justice. No power can exist except through unity. No welfare and no well-being can be attained except through consultation."
By the end of the event, the core group knew about high school stories, victories and challenges with our jobs, family life, places we've traveled, ideas about other projects, and grants we can write together. We gained a true friendship where our love overrides our shortcomings and mistakes that we might encounter. Our collaboration is a space of compassion, forgiveness, and acceptance of our whole selves — one that will hopefully continue spreading love, justice, and unity throughout our city.
You May Also Like