The views expressed in our content reflect individual perspectives and do not represent the official views of the Baha'i Faith.
The hard lesson – that the Earth is a sacred trust and we are its custodians – is being slowly and painfully recognized by all humanity.
The damage we have inflicted on the planet – and on ourselves – has now become dramatically apparent through climate crisis, loss of bio-diversity, and environmental degradation.
In the 19th century, Baha'u'llah warned humanity of impending crisis: "If carried to excess, civilization will prove as prolific a source of evil as it had been of goodness when kept within the restraints of moderation." Today we've begun to learn the truth of that prophecy.
Personally, it wasn't until 1992, when I heard about the Earth Summit at Rio de Janeiro, that I began to think about my relationship with the environment. That UN Environment Conference focused on global issues, including deforestation, biodiversity, and pollution. Like the majority of people, I had become desensitized to our individual and collective responsibilities through the market commodification of the planet's resources.
As a craftsperson, I've always had a passion for wood, but my appreciation and education didn't go beyond its beauty and creative potential. Even as a student my introduction to wood science came from the perspective of a material rather than a forest resource – or, since trees and their wood are a renewable organic resource, from the standpoint of sustainability.
RELATED: The 4 Stages of Learning a Craft
Then I read the UN Conference document, endorsed by 179 heads of state, which recognized the interdependence of social, economic, environmental, and spiritual issues. It also set out a plan for Sustainable Development for the 21st Century (Agenda 21) which recognized that the bulk of the world's progress would likely happen at the grassroots community level. As I followed the discourse and volunteered as an Agenda 21 facilitator I reflected deeply on my spiritual and ethical responsibility to the environment as a world citizen and a Baha'i, keeping in mind Baha'u'llah's primary principle: "The earth is but one country, and mankind its citizens."
An Epiphany
After my environmental awareness began to dawn, while sitting on my workshop steps one day drinking tea, I had an epiphany. Looking out at the surrounding woodland I became conscious that while I could order imported timber on the phone I could not acquire local timber. Following the decline of the UK furniture industry in the 1980s through global competition, the local sawmills and timber merchants who supplied furniture makers and manufacturers almost completely disappeared. Hardwood timber is now an imported commodity in the UK, and comes to workshops and manufacturers on the back of a lorry. The disconnect between forest and timber users was complete.
A New Creative Ethic
I soon realized that my problem was not just a local one, but a systemic global problem that reflected the disconnected practices and lack of unified vision of foresters, timber buyers, manufacturers, designers, marketers, retailers, and consumers. However, as an independent craftsperson working in wood, I thought I could choose to develop an alternative approach that promoted a sustainable practice and contributed to local community building. Unlike many manufactured goods, craft-made products have a unique provenance and are appreciated for generations. Rather than cheaply made, disposable products that contribute to unsustainable resource use and ultimately wind up in the waste stream, as a craftsperson working in wood I had to figure out ways to more readily source timber from local woodlands, creating a direct, caring, and sustainable link to natural resources. These realizations led me to think in a new way and, as Baha'u'llah exhorted, to "Be anxiously concerned with the needs of the age ye live in, and center your deliberations on its exigencies and requirements."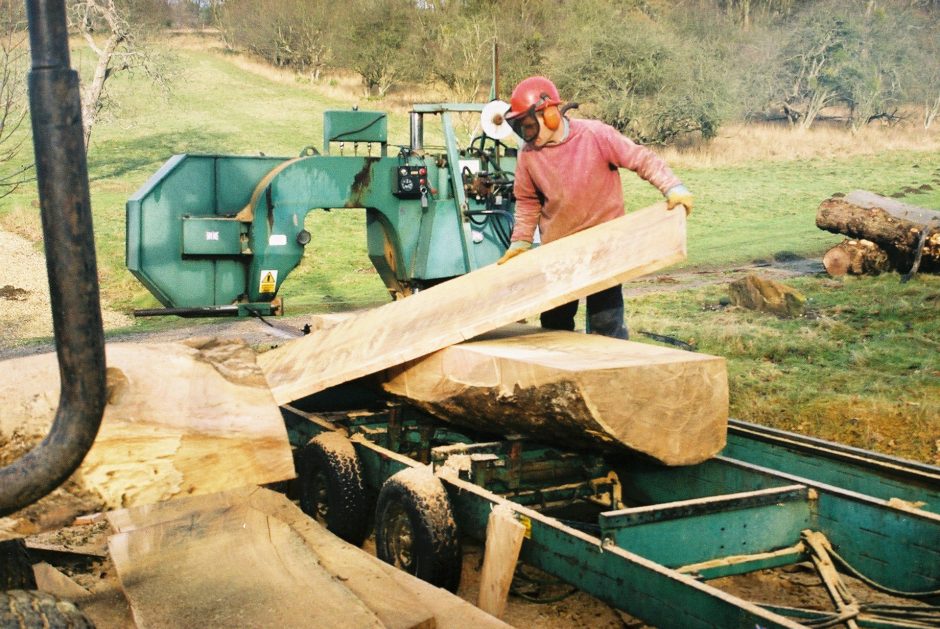 My initiative to create a local cycle from forest to furniture began in earnest in January 2000*. I soon discovered more about my local woodland heritage. One day there was a knock at the door and an elderly gentleman introduced himself as Christopher. He had grown up in the house next door. He told me that as a boy in the 1950s he had watched the craftsmen known as bodgers turning the legs for Windsor chairs on a foot-driven pole lathe (see image) in the wood next to my workshop. After setting up their seasonal camp they cut selected beech trees into lengths of 50cms/20", known as billets, and then split them into smaller sections before putting them on their foot-powered lathes. Like their fellow woodcraftsmen they selected trees based on their needs for the next quarter-century. Today, these woodlands only have landscape, recreational, and biodiversity value. As little income is generated, there is no means to manage them sustainably, harvesting the mature trees and making room for the saplings to grow. While landscape and amenity value increase the market value of homes in woodland areas, little economic benefit or income goes to the owners to manage their woodlands. The picturesque woodlands I could see from my workshop were in a state of ecological and economic crisis.
Forestry and the Local Cycle
We are all aware that our forests provide a vital role in our ecosystem, acting as lungs for the planet. Scientists estimate that the world needs about 30 per cent forestry cover to process carbon dioxide. However, forestry coverage in England is now around 12 per cent – but in Germany, France and the USA, by contrast, this figure is over 25 per cent.
Additionally, the UK currently imports over 95 per cent of its hardwood timber needs. Almost two-thirds of UK woodlands are privately owned and most timber resources are poorly managed. Oxfordshire's woodlands have the capacity to produce timber worth £[?] millions each year, but current production is negligible, although demand is growing for firewood.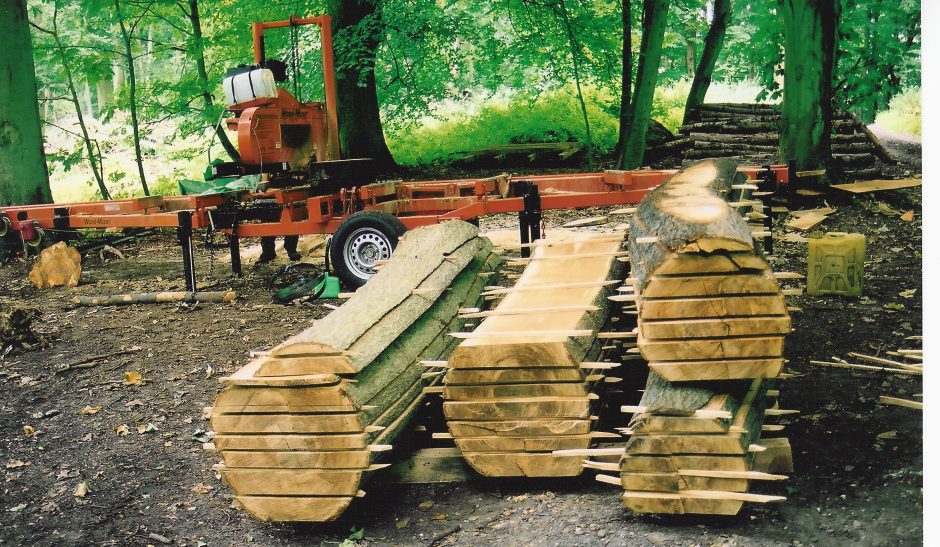 Think Global – Act Local
The global timber industry requires timber to conform to standard measurements and grades. In an effort to find alternative and sustainable ways of sourcing, processing, and utilizing wood, my workshop now makes creative use of local timber resources that are not usually considered commercially viable in the timber trade.
I began by developing a Local Cycle which encourages collaboration and support among woodland owners and local forestry-related businesses, by sourcing timber from estates and woodlands within twenty miles of my workshop. Mobile sawmills convert the logs into planks, which are then brought to my workshop to dry. The timber is initially air dried for several years before going into my workshop kiln for a few weeks to complete the drying process. Reducing the number of stages in the supply chain, and the distances the timber must travel, also significantly reduces its ecological footprint, and allows woodland owners to negotiate a better price for their timber that would have only been sold for firewood.
RELATED: Craftsmanship as Spiritual Practice
Provenance
Locally grown trees, which have not been grown specifically for timber production, come in a variety of shapes and species unlike timber grown for commercial use. These timbers have many unique characteristics, including knots, cracks, unusual grain patterns, or unusual coloring caused by fungi or age. Because manufacturers need wood that has consistent qualities to maximize efficiency, the variety and quality found in local timber is unsuitable for production and has little commercial value.
Yet, non-standard and unusually shaped trees can inspire my unique design forms. In the hands of an experienced craftsperson each piece of furniture can acquire a unique identity, represented by grain patterns and other distinctive markings that can transform furniture into a celebration of nature and locality. The renowned American ecological designer Victor Papaneck appreciated the contribution an individual working on their own could make to the world:
It is the intent of the designer as well as the intended use of the designed object that can yield spiritual value. Baha'u'llah explained that spirituality is expressed through action: The betterment of the world can be accomplished through pure and goodly deeds …
Throughout this entire process I learned that furniture can be a form of story telling when it connects the woodland, the furniture maker, and the client. The Pondlife bench is just one example of this radical rethink of the purpose of furniture and the local cycle. Its unusual form has evolved through the exploration of sweet chestnut thinnings and the relationship between sculpture and furniture, function, and fantasy. As sculpture, Pondlife invites us to enjoy the tactile qualities of the sinewy reeds. However, unlike most sculptures, it can be utilized for seating, as a space for respite, contemplation and personal reflection, either in the garden or the home.
Creating a local cycle from forest to furniture required expert collaborators, including an Oxfordshire forester who identified sweet chestnut thinnings from a local woodland near Oxford as a suitable under-utilized, durable, and locally grown hardwood. The misshapen thinnings – often regarded as a waste product and removed to promote the growth of stronger, straighter trees – are particularly suitable for Pondlife's curvaceous carved reeds.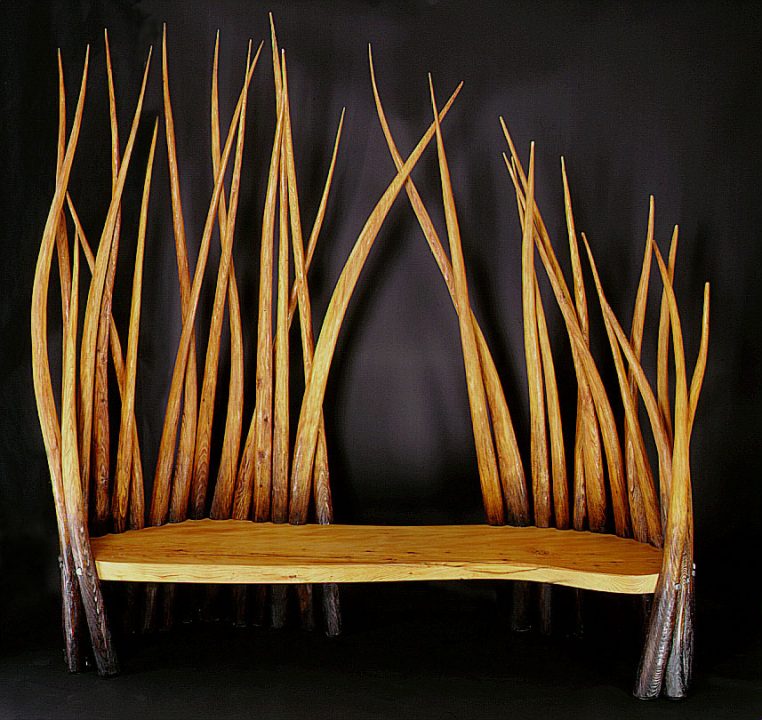 The thinnings are cut into two halves at the woodland's own sawmill and delivered directly to the workshop where they are stored until band sawn and shaped to create the finished Pondlife reeds. The Pondlife bench is a creative exploration in form, where the boundaries between furniture and sculpture merge and the signature characteristics of individual pieces of wood inform the design, the individuality, and the beauty of each creation.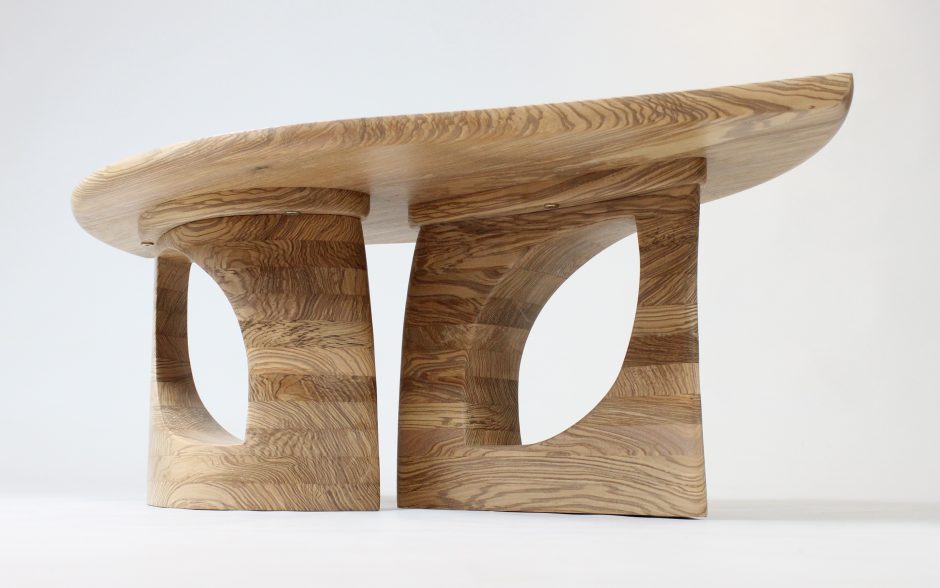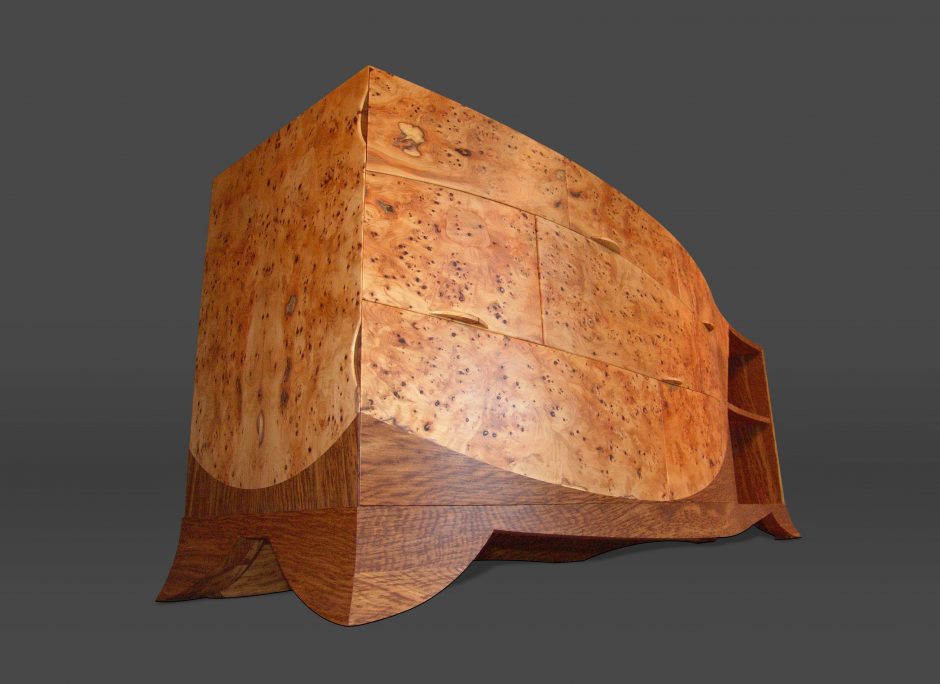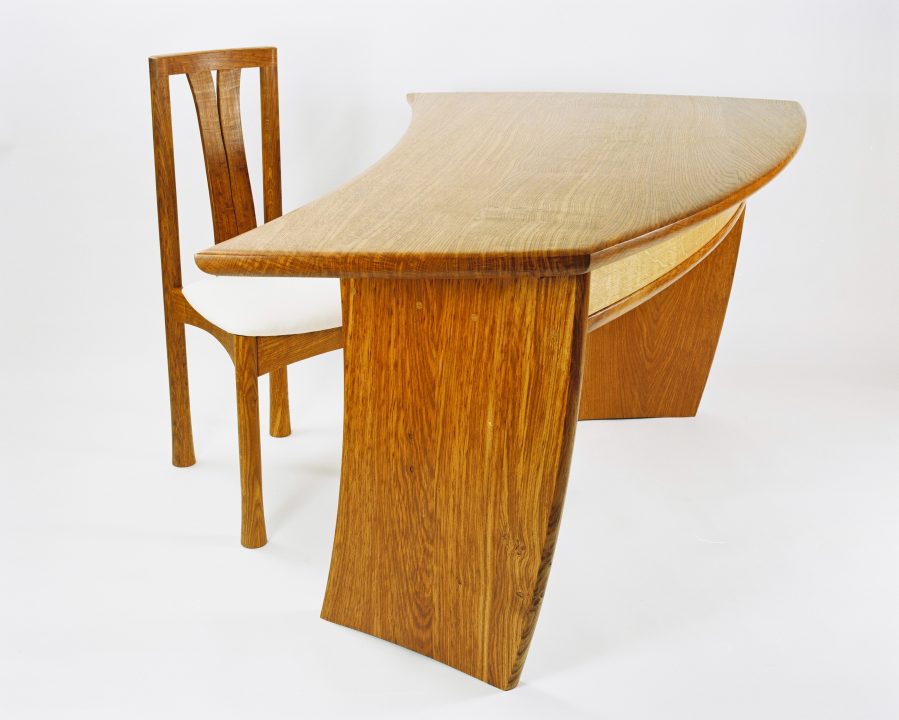 *The Out of the Woods project, a 2000-2006 PhD practice-based endeavor, emerged after 25 years of developing a workshop-based creative undertaking. It attempted to expand the role of craft-based furniture beyond the commercial constraints of the market and an anachronistic view of craftsmanship; while recognizing that this tension can be a catalyst for creativity, all by making greater use of local native timbers and developing collaborative networks between craftspeople, foresters, and forestry contractors. With this approach, local, sustainable economies can grow, and  woodlands can begin to flourish again. 
The project included a touring exhibition to showcase the results and highlight the issues to the public. In addition to Philip's practice many ideas behind this project are now pursued by the Sylva Foundation (link) where Philip is a pro bono adviser.
You May Also Like